Signing Day: D2 schools gorge on in-state players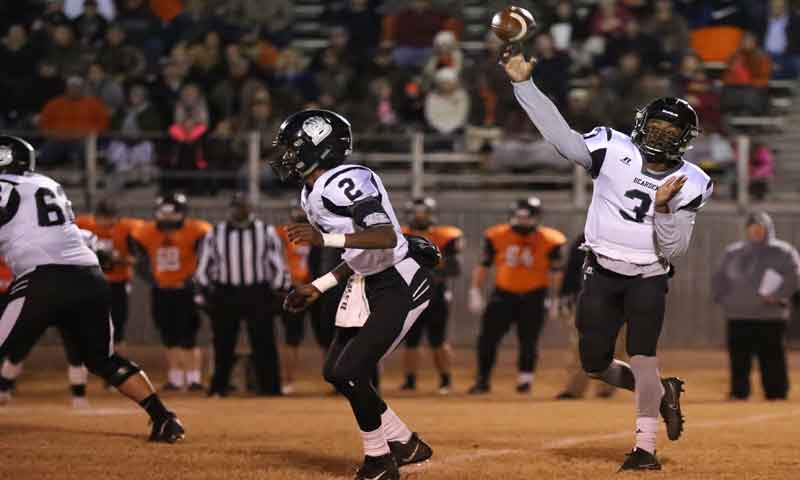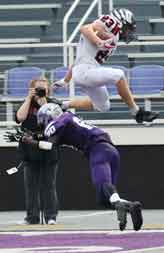 Hayden Holtgrewe to HSU
Ouachita Baptist University won the Great American Conference last season and captured conference titles in 2011 and 2014. The staff at OBU, regarded by many Arkansas high school coaches as some of the better recruiters in the state, continue winning the battles for top Arkansas talent.
OBU signed more than 30 players Wednesday comprised largely of Natural State talent, including the Alma duo of quarterback Garrison Jensen (6-1, 215) and Brayden Johnson (6-4, 205). Jensen completed 174 of 301 passes last season for 2,430 yards and 27 touchdowns with seven interceptions. The dual-threat QB ran 199 times for 1,051 yards and 18 TDs, and caught a 25-yard TD pass. Johnson, courted over the past year by several Division I schools because of his size, led the Airedales with 85 receptions for 1,180 yards and 16 TDs, averaging 5.3 yards per carry.
Ouachita signed three quality players from Class 4A state champion Arkadelphia, including safety Dillon Scott (5-10, 165), who made the game-saving open-field tackle and clinching interception on consecutive plays in the waning seconds of the championship game. The Tigers also signed former Badger fullback Jack Burnham (5-11, 200) and his twin, linebacker Josh Burnham (5-11, 200).
OBU inked another 7-4A player in Mena all-state safety Justin Dean (6-2, 190), who tore his ACL last October after positioning the Bearcats for a potential playoff push. Dean racked up 71 tackles in 2017. He ran 80 times for 852 yards and 10 TDs, and caught 17 passes for 302 yards and a TD.
"The conference coaches voted him (Dean) all-state and he didn't play in the final two games," Mena coach Tim Harper says. "That shows his level. He's the most accomplished, well-rounded, football player I've coached. He was one of the best in a conference full of college players."
OBU's defense gets help from linebackers Marterious Daniel (6-2, 245) of Wynne and Hunter Swoboda (6-4, 225) of Bentonville West. Daniel anchored a defense that drove Wynne to three straight conference titles and a 2016 state runner-up finish. Daniel recorded 99 tackles this season, including 11 tackles for loss, two sacks and three interceptions. Swoboda played at Joe T. Robinson as a sophomore and junior before moving to Northwest Arkansas in late May 2017. Swoboda played in every game despite injuring his knee in a June team camp, racking up 89 tackles and two sacks. Both players could shift to defensive end in college.
Henderson State won three league titles from 2012-2015, and the Reddies plucked several impressive players from Northwest Arkansas, including Gentry all-state QB/safety Jon Faulkenberry. The dual-threat QB carried Gentry last fall, pushing the Pioneers to their first playoff spot since 2014. Faulkenberry passed for more than 1,800 yards last season and ran for more than 1,200 yards.

Pea Ridge's receiver/safety Hayden Holtgrewe, the 2017 Farm Bureau Awards Class 4A Defensive Player of the Year, also signed with the Reddies. Holtgrewe led the Blackhawks to the 2016 state title game and helped the Blackhawks reach the semifinals in 2015 and 2017. He caught 83 passes for 1,271 yards and 15 TDs last season and registered 52 tackles.
The Reddies also signed Holtgrewe's QB, Jakota Sainsbury (5-11, 180), and Gravette defensive lineman Bailey Soule' (6-1, 250). Sainsbury passed for 2,419 yards and 28 TDs last year, while Soule' racked up 82 tackles, including 20 tackles for loss and 10 sacks.
Another Henderson signee, Bearden's Tyler Berry, was a two-time all-state selection and the 2017 Farm Bureau Insurance Awards 2A Offensive Player of the Year.. Playing QB and safety, Berry led the Bears to a first-round playoff win last fall at McCrory. Berry passed for 1,412 yards and 15 TDs in 2017, and ran for 765 yards and nine TDs. He assisted on 83 tackles, forced three fumbles and intercepted six passes. He swiped 11 interceptions the past two years. "His ball skills are incredible," Bearden coach Ernie Horstkamp says. "He makes plays on both sides of the ball."

Henderson State signed one of the state's premier kickers, Dardanelle's Temo Martinez  (5-10, 155), who made all 53 extra point attempts last season and seven of nine field goals. Martinez averaged 41 yards per punt and 66 of his 72 kickoffs resulted in touchbacks.
Harding, league champion in 2016, finished as runner-up in 2017 before advancing to the D2 playoff semifinals, and the Church of Christ affiliated school signed six players from Arkansas. Offensive lineman Dennis Carroll (5-9, 260) anchored North Little Rock's 2017 state title team before signing with the Bisons. Carroll squats 650 pounds and bench presses more than 400 pounds. "He's one of the strongest players I've coached," North Little Rock 29-year coaching veteran Jamie Mitchell says. Carroll earned all-conference honors as a junior and was selected all-state and voted as team captain as a senior.
Arkansas Tech made one of the bigger signing day splashes, landing Blytheville offensive lineman Larry Clark. Clark had offers in the fall from Arkansas State, Kansas, Iowa State, Louisiana-Monroe and several FCS schools, but ultimately chose to remain in state. "Arkansas Tech is getting a very talented kid who had two Big 12 offers and lots of Division I interest," Blytheville coach Ben Fisher says. "He's a better kid than a football player. He'll do whatever it takes to succeed." Clark was courted over the past month by first-year South Alabama coach Steve Campbell, who coveted him while coaching at UCA the previous four years. "We went to a UCA camp when Larry was as a sophomore," Fisher says. "The coaches loved him and were glued to his pocket, watching his every move."
The Wonder Boys also signed offensive tackle Zak Kemp (6-6, 250) from Bryant, who originally committed to University of Arkansas-Monticello. They also signed a pair of running backs who played less than two miles apart on Highway 10 in West Little Rock. Andre Bradley (5-7,190) ran for more than 500 yards while helping Joe T. Robinson claim the 7-4A title and make its second semifinal appearance in six years, while Ladarius Burnes (5-9, 185) ran for more than 1,100 yards for 5A Central runner-up Little Rock Christian.

Southern Arkansas typically signs more players from north Louisiana and East Texas than from Arkansas, but the Muleriders secured signatures from eight Arkansas prep players, including West Memphis standout lineman Caleb Clark (6-5, 280). Clark turned down multiple FCS scholarships for the Muleriders. Hot Springs Lakeside running back Michael James (6-1, 200) signed with SAU after taking HS Lakeside to two conference titles and a 5A South runner-up finish in 2017. James ran for 859 yards and eight TDs in 2017 and almost 1,400 yards the past two years.
Arkansas-Monticello signed a strong group of Arkansas products, including tight end Deven Sloan (6-4, 230), the first college signee from six-year program Brookland. The Boll Weevils signed Warren defensive lineman Wallace Smith (6-3, 290), who racked up more than 50 tackles last season for the Class 4A state runner-up. UAM signed four players from Crossett, including fullback S'Quan Duke (6-0, 230) and linebacker Tanner Courson (6-2, 230).
ARKANSAS TECH
Andre Bradley, RB, Joe T. Robinson
Ladarius Burnes, RB, LR Christian
Larry Clark, OL, Blytheville
Troy Criswell, FS, Morrilton
Luke Curtis, TE, Bryant
Parion Johnson, FS, Fountain Lake
Zak Kemp, OT, Bryant
Jayden Mendez, DT, Van Buren
Anthony Nelson, CB, Ashdown
Zach Newman, OG, Farmington
R.J. Rice, WR, Episcopal
J.D. Smith, WR, Clarendon
Ryan Talley, QB, Russellville
Austin Terrell, WR, White Hall
Tyson Williams, QB, Jonesboro
Jesus Zizumbo, K, Har-Ber
HARDING
Dennis Carroll, OL, North LR
Easton Miller, RB, Bentonville
Peydon Hardlow, LB, Harding Academy
Nick Parchman, WR, Springdale
Zach Smith, RB, LR Parkview
Travis Turley, WR, Harding Academy
HENDERSON STATE
Tyler Berry, Safety, Bearden
Hunter Church, OL, Glen Rose
Jon Faulkenberry, S, Gentry
Jarett Fox, DL, Dierks
Jacob Gray, H-back, Fayetteville
Hayden Holtgrewe, WR, Pea Ridge
Temo Martinez, K, Dardanelle
Rondale Messer, CB, Bryant
Ka'Darius Pearson, WR, Prescott
Jakota Sainsbury, QB, Pea Ridge
Ketric Sledge, Safety, Fordyce
Ayden Shurley, H-back, Cabot
Bailey Soule', DL, Gravette
Trey Smith, DL, Strong
Randarius Terry, S, Crossett
Clay Thompson, DS, North Little Rock
Denzel Walter, DL, El Dorado
OUACHITA BAPTIST
Jacob Barker, OL, Searcy
Jack Burnam, FB, Arkadelphia
Josh Burnam, LB, Arkadelphia
Nathan Burrow, OL, Conway Christian
Anthony Chairez, OL, Sylvan Hills
Jackson Coleman, WR, Sheridan
Ty Compton, LB, Sylvan Hills
Tommy Crumpton III, ATH, LR McClellan
Marterious Daniel, DL, Wynne
Justin Dean, DB, Mena
Taliq Ellis, WR, El Dorado
Garrison Jensen, QB, Alma
Brayden Johnson, WR, Alma
Dalvonte Lewis, WR, Camden Fairview
Kentravious Moore, OL, El Dorado
Oshae Pruitt, LB, Newport
Caleb Salisbury, QB, Van Buren
Dillon Scott, DB, Arkadelphia
Spencer Sutterfield, RB, Greenbrier
Hunter Swoboda, LB, Bentonville West
Nathan Turner, OL, Conway
SOUTHERN ARKANSAS
Caleb Clark, OL, West Memphis
Michael James, RB, HS Lakeside
Whitten Jones, S, Malvern
Cullen Rogers, DL, Camden Fairview
Tyrek Rucks, LB, El Dorado
Tarrion Thompson, DL, Camden Fairview
Wyatt Varvil, DL, Quitman
Adam Watson, OL, Magnolia

UA-MONTICELLO
Tanner Courson, LB, Crossett
S'Quan Duke, RB, Crossett
Noreaga Fraizer, OL, Junction City
Ricky Morgan, DL, McGehee
Donte Perry, LB, West Memphis
Dusty Schureman, OL, Rogers
Antonio Snow, DB, Pine Bluff
Deven Sloan, TE, Brookland
Wallace Smith, DL, Warren
Michael Thompson, DB, Crossett
John Wiens, TE, Cabot
Kaylon Williams, WR, Crossett