Recruiting: Just 7 DI players leave state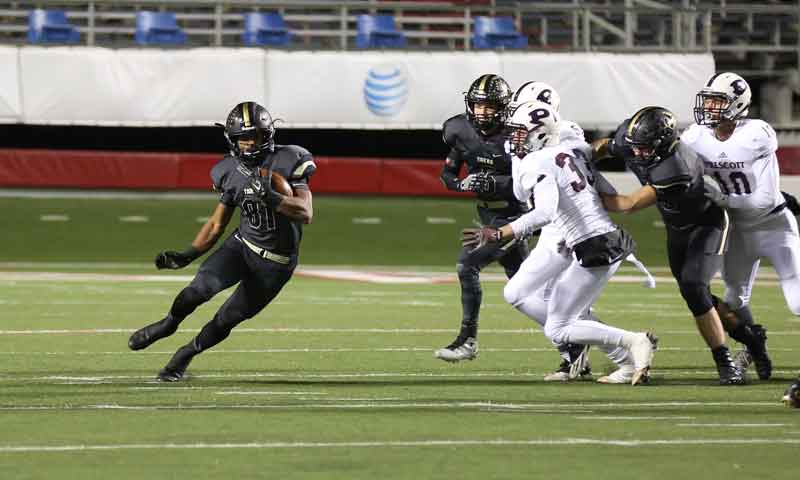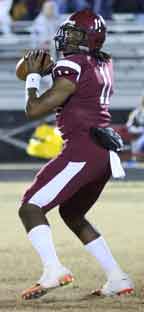 Gerry Bohanon
Two years ago, 17 players from Arkansas signed Division I letters of intent with out-of-state schools. The number dwindled to just seven this season when the state struggled to produce its typical college talent.

Pulaski Academy has won four straight state titles, and it's no surprise the Bruins boast some of the state's top talent. A pair of Bruin offensive linemen headline the group of Arkansans going out of state.

Senior tackle Luke Jones (6-6, 295) signed with Notre Dame. Jones (300-pound bench press) plays basketball and "is athletic and smooth," Pulaski Academy coach Kevin Kelley says. "He has tremendous feet for his size." Jones chose the Fighting Irish over 12 other DI offers, including Arkansas, Arizona State, Missouri and Oregon. Some recruiting websites list Jones as one of the nation's top 50 offensive lineman prospects.

Allen Amuimuia (6-2, 315) played center for the Bruins, rarely misfiring while snapping exclusively from the shotgun formation. Amuimuia (28 ACT) signed with Air Force after committing to the Falcons in July 2017. The stout lineman bench presses 375 pounds. He won the Class 5A state heavyweight wrestling title in 2017.

The NCAA's first-ever early signing day (Dec. 20, 2107) eased much of the anticipation of national signing day and knocked some luster from this year's class.

Earle quarterback Gerry Bohanon (6-3, 220), this most sought after prospect from the Natural State with more than 20 offers, inked with Baylor in the early signing period. Bohanon had offers from Alabama, Arkansas, Auburn, Georgia and LSU. Most recruiting analysts rank Bohanon as one of the country's Top 10 dual-threat QB prospects.

Charleston receiver and Farm Bureau Insurance Awards Class 3A Offensive Player of the Year Sean Michael Flanagan (6-2, 195) signed with Oklahoma State on Dec. 20 after de-committing from Arkansas two days earlier. Flanagan (#81 in Rhonda Sharp photo above) had committed to former Arkansas head coach Bret Bielema in June. Flanagan owned a dozen more offers, including Arkansas State, Kansas, Memphis and Missouri. Flanagan caught 41 passes this year for 826 yards and 12 touchdowns, and he ran 37 times for 212 yards and six TDs. He ran for 16 TDs and caught 172 passes for 2,858 yards and 40 TDs the past three seasons. Lining up at safety on defense, Flanagan collected 193 tackles and intercepted nine passes in his career.

Jessieville linebacker Oliver Nasilai (6-0, 245) signed with Brigham Young University in December after committing to the Cougars in June. Nasilai played the previous two seasons at Class 7A Har-Ber, earning all-state honors as a junior with 61 tackles, including 14 tackles for loss.

Cabot defensive lineman Dayonte Roberts (6-2, 280) signed with Louisiana-Monroe in December. Roberts racked up 119 tackles over the past three seasons. He had scholarship offers from Arkansas State and Texas State, while Memphis offered him two years ago as a sophomore.

Fayetteville won state titles in 2015 and 2016, and the Bulldogs lost by one point in this year's quarterfinals. Purple Dog defensive lineman Dotson Schaefer (6-4, 240) signed with Texas State in December after de-committing from The Naval Academy in September. Schaefer also owned an offer from Army. Schaefer racked up 78 tackles this season, including 25 behind the line of scrimmage. He terrorized opposing QB's with 11 sacks and 17 QB hurries.
OUT-OF-STATE DI SIGNEES
Air Force
Allen Amuimuia, OL, Pulaski Academy
Baylor
Gerry Bohanon, QB, Earle
BYU
Oliver Nasilai, LB, Jessieville
Notre Dame
Luke Jones, OL, Pulaski Academy
Oklahoma State
Sean Michael Flanagan, WR, Charleston
Texas State
Dotson Schaefer, DL, Fayetteville
ULM
Dayonte Roberts, DL, Cabot