hootens.com Top 50 recruits for 2017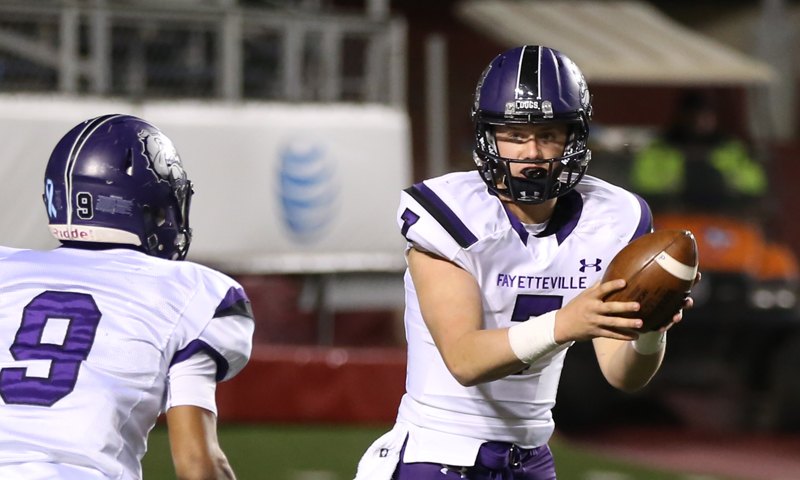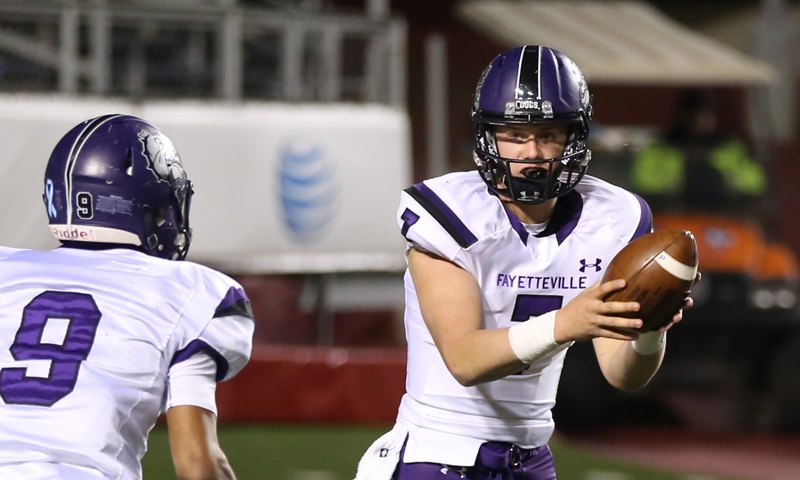 Fayetteville QB Taylor Powell
Hootens.com unveils its first glance at the expected Top 50 college prospects for 2017. This list doesn't necessarily equate to the top high school players in the state, instead it reflects the amount of college recruiting interest each player likely generates. The list starts with Ashdown safety Montaric Brown, who has offers from across the country, and a pair of Fayetteville prospects, who had offers as sophomores.
TOP 50 IN-STATE JUNIOR RECRUITS
1. Montaric Brown, DB, Ashdown (offers from Arkansas, Alabama, Miss. St., LSU, Okla. St., UCLA and others)
2. Taylor Powell, QB, Fayetteville (multiple D1 offers, including Maryland, Wake Forrest, Illinois)
3. Akial Byers, DL, Fayetteville (multiple SEC offers, including Alabama)
4. Pierre Strong, RB, LR McClellan
5. Josh Johnson, WR, CAC (multiple D1 offers, including Notre Dame; committed to Indiana)
6. Jarrod Barnes, QB, Cabot (committed to Arkansas)
7. Jonathan Adams, WR, Jonesboro (offer from A-State)
8. Hunter Moreton, OL, FS Southside (offer from A-State)
9. Damon Nelson, OL, Har-Ber
10. DeShawn Gulledge, RB, Bald Knob
11. Damien McDonald, OL, West Helena
12. David Porter, DL, Pulaski Robinson (offers from Kansas State, others)
13. Koilan Jackson, QB, Pulaski Robinson (offer from Arkansas)
14. Jordan Washington, DB, Sylvan Hills
15. Sanderson Hines, OL, Pulaski Robinson
16. B.J. Thompson, TE, England (offers from A-State, Memphis and Tulane)
17. Kirby Adcock, OL, Nashville (offer from Southern Miss)
18. Alex Day, RB, North LR
19. Jaren Watkins, RB, Pulaski Academy
20. Demekko Clark, RB, Blytheville
21. Myles Fells, RB, Pulaski Robinson
22. Cualan Williams, WR, Lafayette County
23. Austin Guymon, WR, LR Christian
24. Dennis Daniels, RB, Warren
25. Spencer Stone, OL, Fayetteville
26. Darrius Hopkins, RB, Nashville
27. Keshawn Whaley, LB, Pine Bluff
28. Luke Hales, QB, Greenwood
29. Terrance Rock, RB, Fayetteville
30. Austin Stubber, QB, Hope
31. Caden Brown, DL, Dardanelle
32. Blake Franks, DL, Batesville
33. Sloan Rogers, LB, Pocahontas
34. Audrey Horn, OL, LR Catholic
35. Seth Martin, OL, Pulaski Academy
36. Luke Gordon, QB, Vilonia
37. Noah Dotson, LB, Alma
38. Brayden Brazeal, QB, England
39. McKinley Williams, LB, Sheridan
40. Devontai Pounds, WR, Wynne
41. Hunter Davenport, LB, Lamar
42. Noah Evans, QB, CAC
43. Caleb Stokes, WR, Russellville
44. Garrett Bernard, LB, Batesville
45. Roshaun Young, DL, LR McClellan
46. Connor Reece, QB, Shiloh Christian
47. Monta Thomas, RB, Hermitage
48. Michael Jenkins, DL, Crossett
49. Kylan Robinson, RB, Batesville
50. Tanner Gaines, QB, Hector
"