Hogs: talented trio in Bielema's doghouse; QB race; Froholdt to O line; more notes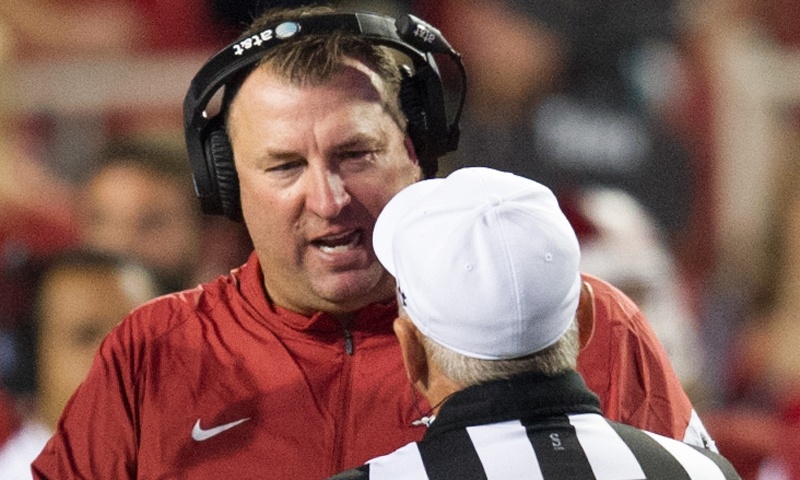 | | |
| --- | --- |
| | |
| | Soph QB AUSTIN ALLEN |
FAYETTEVILLE - Not all of Arkansas' football news this week concerns its 24th-ranked recruiting class.

Arkansas coach Bret Bielema also addressed during the signing day press conference: sophomore running back Rawleigh Williams has received a second medical opinion concurring with one in Fayetteville that he should be fully recovered from last fall's season-ending neck injury to return actively to football in August.

For now, Williams has "final clearance" for weight room drills, Bielema said and non-contact work for spring drills.

Bielema said any spring work for Williams will be under "very guarded conditions," but that "if all things go forward he should be full-go after that."

Bielema revealed that receiver Drew Morgan and cornerback D.J. Dean had minor off-season surgeries. Major knee surgery will knock tight end Jack Kraus out of spring ball, Bielema said. Kruas injured his knee during the last on-campus practice before the Razorbacks defeated Kansas State at the Liberty Bowl.

Bielema said linebacker Randy Ramsey, academically ineligible last fall and initially set to transfer without a Razorbacks scholarship, "has been outstanding," determined to get back in good standing and paying his own way as a walk-on this semester.

"Really been impressed with what he brings to the table so far," Bielema said.

However, two players Bielema bragged on last fall are in his doghouse. All-SEC freshman Dre Greenlaw of Fayetteville, impressive redshirt freshman end Jamario Bell of Junction City, and redshirt tight end C.J. O'Grady of Fayetteville are not engaged in team activities.

"Removed C.J. O'Grady, Dre Greenlaw and Jamario Bell for a week," Bielema said. "Until they show me that they're going to uphold to the standards I believe they have to academically, they'll be removed just to put a reminder in their ear it's academics before athletics to get on the field. They've got to learn that. I think they've been very attentive here the first three days of the week. I expect that to come back full-circle on Monday. If not the'll stay removed."

Bielema said junior Duwop Mitchell, recruited as a quarterback then moved to receiver, has requested to play either running back or safety, both positions with more need of immediate depth than receiver.

Also sophomore Hjalte Froholdt has moved from defensive tackle to offensive guard. "I know he's excited. We're excited where that baby's gonna go," Bielema said.

Bielema was asked about quarterbacks Austin Allen, the backup QB in 2014 and 2015, sophomore Rafe Peavey, Southern California transfer Ricky Town and redshirt freshman Ty Storey, starting their competition in December to succeed graduated three-year starter Brandon Allen.

"I think we had six (bowl) practices, or five for sure, where B.A. wasn't on the field," Bielema said. "I wanted those quarterbacks to feel, before they left for break, what it was like to have a whole team on the field without B.A. on the field. I wanted Coach (Offensive coordinator Dan) Enos to feel that to be quite honest as well."

Any reflections how that all went?

"It was pretty cool to see all that," Bielema said. "I think Austin continues to make some really good things happen. But by no means is he perfect or close to the level we need. I'd say he's getting close. The good thing about him, you know he filled in, you remember that Ole Miss game (in 2014) B.A. got knocked out in the second quarter, so he really survived that whole game for us and beat a ranked team in the SEC at that point. Rafe does a lot of really good things and nobody can doubt his work ethic or drive to be successful. Ty Storey has continued to get better every day. He's got to get stronger throwing the football and moving and addressing some areas of need. Ricky Town, my USC transfer, was very impressive down on scout team."

Unfortunately, Town ran opposition offenses and not Arkansas' offense redshirting last fall as a transfer. "He never really got a grasp of the offense," Bielema said. "That's going to be a really big part of what we do this spring is bring along Ricky."




"