National Signing Day: state title winners among 16 to exit for DI destinations across nation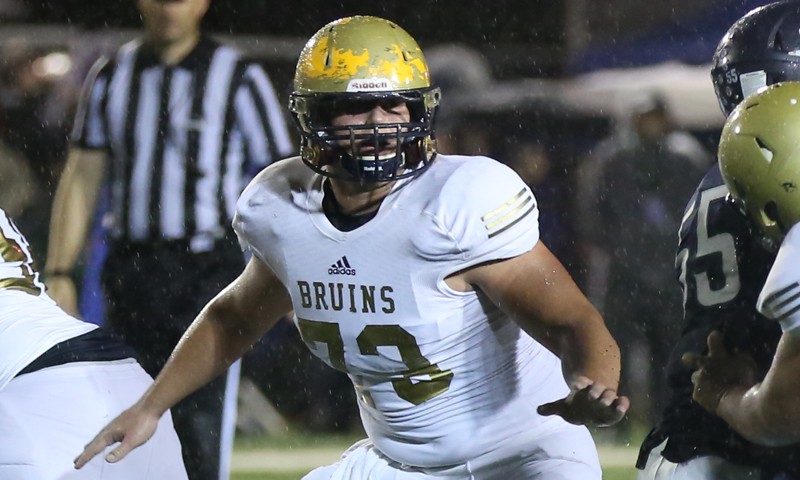 At least seven players from Arkansas who ended their high school careers two months ago playing for state titles signed Division I (FBS) scholarships Wednesday.
| | |
| --- | --- |
| | |
| | ARMY ATH TRE BRUCE |
Pulaski Academy quarterback/receiver Tre Bruce (6-1, 200) and lineman Caden Haws (6-3, 265) helped the undefeated Class 5A champs average 50 points and 582 yards per game. Bruce accepted an appointment to West Point and signed with Army, while Haws signed with BYU.

Bruce was tabbed the 5A Central's Most Outstanding QB this fall although he primarily played receiver. He completed 44 of 90 passes for 494 yards and five touchdowns and ran for 380 yards and five scores. At receiver, he led the state with 122 catches for 1,435 yards and 16 TDs. Bruce is one of approximately 20 players in state history to earn all-state honors three straight seasons. "He has a defensive mentality when the ball is in his hands," Pulaski Academy coach Kevin Kelley says.
| | |
| --- | --- |
| | |
| BYU OL CADEN HAWS | |
Haws, the son of former Washington Redskin linebacker Kurt Haws, bench presses 350 pounds and squats more than 500 pounds. Haws had scholarship offers from Navy and was evaluated by Utah and most SEC schools. "He's so big and physical," Kelley says. "After watching his highlight video, Auburn coaches called me and couldn't believe he was that big and dominant. I'm surprised he didn't get a lot of offers."

A pair of Pine Bluff players signed Division I scholarships after leading the Zebras to consecutive Class 6A titles. Receiver/safety David Beasley (6-3, 180) signed with Louisiana Tech, while defensive end John Tate (6-4, 275) signed with Memphis. Beasley caught 34 passes for 747 yards and 17 touchdowns this fall, and made 27 tackles and two interceptions. He also had scholarship offers from Arkansas State, Houston and Memphis.


Tate, the son of former Arkansas State basketball player John Tate, turned down 10 other DI
| | |
| --- | --- |
| | |
| | MEMPHIS DE JOHN TATE |
scholarship offers, including Arkansas State, Arizona State, Boise State, California, Houston, Louisville and Ole Miss. Tate racked up 40 tackles, 13 tackles for loss and nine sacks in 2015.

Fayetteville won the Class 7A championship with its Spread averaging almost 50 points per game. Fayetteville lineman Noah Johnson (6-4, 280), a three-year starter on teams that won 31 games, signed with Idaho. The two-time all-state selection power cleans more than 300 pounds. Johnson played guard and center at Fayetteville. "He's a powerful blocker," Fayetteville coach Daryl Patton says. "But his footwork sets him apart. He's got small ankles and can move extremely well for his size."

Dylan Soehner (6-7, 275) signed with Iowa State after helping Prairie Grove reach its first ever state title game. Soehner, a three-year starter at tight end, caught 39 passes for 662 yards and eight TDs in 2015. He also racked up more than 40 tackles on the defensive line. Soehner had offers from Arkansas State, Illinois and Louisiana Tech.

Pulaski Academy defensive end Robert Ator (6-4, 220) signed with Air Force. Ator, the son of Col. Robert Ator II, the 189th Airlift Wing Commander for the Arkansas Air Guard, turned down an offer from Rice. Ator racked up 57 tackles in 2015, including 13 tackles for loss. "He's a true defensive playmaker," Kelley says. "He has great size and is quick off the ball."

Little Rock Parkview featured a pair of Division I defensive linemen. Kenyon Jackson (6-0, 295), son of former NFL All-Pro tight end Keith Jackson, signed with Illinois, while Markell Utsey (6-4, 295) signed with Missouri.
| | |
| --- | --- |
| | |
| | MIZZOU RB D. CROCKETT |
Little Rock Christian running back Damarea Crockett (6-0, 215) joins Utsey at Missouri. Crockett originally committed to Boise State in the summer, but switched after getting an SEC offer in mid-January. Crockett ran 253 times for 1,633 yards (6.5 yards per carry) and 26 TDs this fall, and caught 23 passes for 300 yards and four scores. As a junior, he ran for 1,178 yards and 17 TDs. Crockett played for Camden Fairview as a sophomore.

"He is the epitome of combining athletic ability with size," Little Rock Christian coach Jeff Weaver says. Crockett willed the Warriors to a conference title in 2015, carrying the ball 51 times for 295 yards and two TDs in a midseason showdown at Greenbrier, including a TD and the winning two-point conversion run in the final seconds.

Bearden offensive tackle Samuel Williams (6-6, 290) earned a scholarship offer from UL-Monroe after an impressive summer camp. Williams chose the Warhawks over UCA and the opportunity to walk on at Arkansas.

Chris Kershner (5-11, 175) from Dardanelle committed to UCA in the summer but switched after a January
| | |
| --- | --- |
| | |
| | NAVY ATH CHRIS KERSHNER |
offer from the Naval Academy. Kershner, a finalist for the Farm Bureau Awards Class 4A Offensive Player of the Year, led Dardanelle to consecutive conference titles. He ran for 1,222 yards and 18 TDs this year, and caught 25 passes for 482 yards and seven scores. Kershner racked up 61 tackles and intercepted four passes at safety, and returned two punts for TDs. He had more than 1,000 all-purpose yards and intercepted nine passes as a junior. The two-time all-state defensive back clocked 4.34 speed at a summer camp.

Fort Smith Northside cornerback Kiondre Thomas (6-0, 175) signed with Minnesota, turning down offers from Arkansas State, Louisiana Tech, Mississippi State and Tulsa. Purdue, TCU, Tennessee and Vanderbilt were interested in Thomas before his commitment to Minnesota.

Bryant defensive lineman Cameron Murray (6-3, 280) signed Oklahoma State, while Texarkana defensive end Nick McCann (6-3, 290) signed with Texas Tech. Murray made more than 100 career tackles. He turned down scholarship offers from Arkansas State, Arizona, Louisiana Tech and North Texas. McCann turned down an impressive list of offers including Baylor, Oklahoma State, SMU and Tulsa to sign with the Red Raiders. McCann, a two-time all-state performer, collected almost 200 tackles the past two seasons.

Fountain Lake running back Parker Ross (6-0, 205) joins Bruce at Army. Ross ran 205 times for 1,707 yards and 27 TDs this fall, and he amassed more than 4,000 career yards.
GOING OUT OF STATE
AIR FORCE
Robert Ator, DL, Pulaski Academy
Eli Hale, TE, Fayetteville

ARMY
Tre Bruce, ATH, Pulaski Academy
Parker Ross, RB, Fountain Lake

BYU
Caden Haws, OL, Pulaski Academy

IDAHO
Noah Johnson, OL, Fayetteville

ILLINOIS
Kenyon Jackson, DL, LR Parkview

IOWA STATE
Dylan Soehner, TE, Prairie Grove

LOUISIANA TECH
David Beasley, WR, Pine Bluff

LOUISIANA-MONROE
Sam Williams, OL, Bearden

MEMPHIS
John Tate, DE, Pine Bluff

MINNESOTA
Kiondre Thomas, CB, FS Northside

MISSOURI
Damarea Crockett, RB, LR Christian
Markell Utsey, DL, LR Parkview

NAVY
Chris Kershner, DB, Dardanelle

OKLAHOMA STATE
Cameron Murray, DL, Bryant

TEXAS TECH
Nick McCann, DE, Texarkana




"