Henderson, OBU lead way as Arkansas' D2 schools sign 80-plus in-state players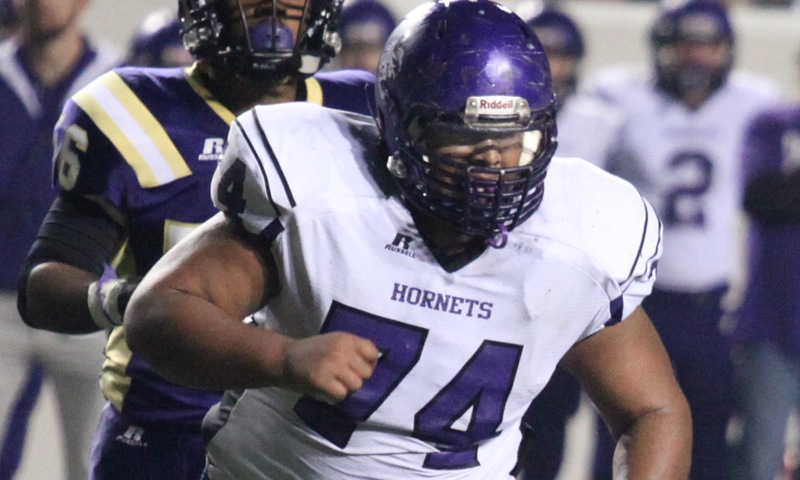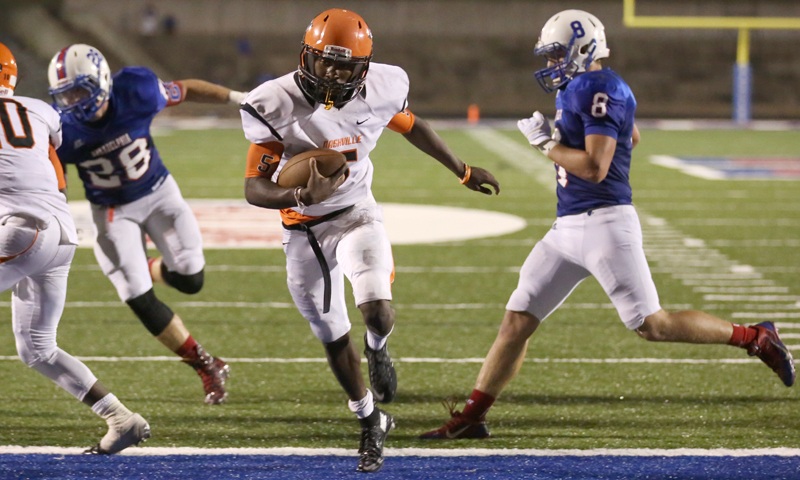 Nashville QB Leonard Snell signs with Henderson State
| | |
| --- | --- |
| | |
| | OBU RB BROCKTON BROWN |
Either Henderson State or Ouachita Baptist has won every Great American Conference football championship since the league's inception in 2011. And the two schools in Arkadelphia continue to pluck some of the state's top high school talent.

More than 80 in-state players signed college letters of intent Wednesday with Arkansas' Division II schools, with Henderson State and Ouachita Baptist combining for almost half of the recruits.

Defending GAC champion Henderson State signed 19 players from the state, including a pair who led undefeated Nashville to the 2015 Class 4A title: linebacker Terrell Grundy (5-11, 200) and quarterback Leonard Snell (5-11, 170). Snell, the Farm Bureau Awards Class 4A Offensive Player of the Year, completed 110 of 230 passes for 1,869 yards and 17 touchdowns last fall, with seven interceptions. He ran 226 times for 1,904 yards (8.4 yards per carry) and 27 scores. Snell was named to the Arkansas Democrat-Gazette Super Sophomore team as a safety in 2013. Grundy made 93 tackles, 13 tackles for loss, six sacks and forced five fumbles last year. Grundy (300-pound bench press) also scored two TDs when inserted at running back in a five-point quarterfinal win at Warren. "Snell has great vision and can play a lot of positions," says Nashville coach Mike Volarvich, a former college assistant. "Grundy is powerful and a great hitter."

Springdale Har-Ber quarterback Fuller Chandler and Rivercrest running back Cecil Langston also signed with Henderson State. Chandler took the Wildcats to the 7A West title and a state runner-up finish. He completed 113 of 203 passes (56 percent) for 2,010 yards and 28 TDs. Langston, the Farm Bureau Awards Class 3A Offensive Player of the Year, carried Rivercrest to a runner-up finish in Class 3A, setting the state single-season rushing record with 3,211 yards and 35 TDs. Langston rushed for at least 400 yards in two games, setting a school record with 437 yards in a second-round playoff win over Episcopal.

Ouachita Baptist, winner of GAC titles in 2011 and 2014, signed almost 20 in-state players, including Pulaski Academy receiver Zack Kelley (5-7, 160). Kelley missed just two games last season after tearing his ACL in the summer, managing 86 receptions for 1,573 yards and 23 TDs. The two-time all-state performer caught 67 passes for 1,013 yards and 20 TDs in 10 games as a junior (missed four games with a broken shoulder).

OBU signed an impressive group of running backs, including Brockton Brown (5-11, 190) from Sheridan, Jakeymes Gates (6-0, 205) from Fordyce and Jon Johnson (6-0, 195) from Harmony Grove Haskell.

Brown ran 265 times for 2,162 yards and 22 TDs this season, and finished second on the team with 13 receptions for 157 yards. Gates ran 236 times for 2,139 yards and 29 TDs and caught 14 passes for 239 yards and five scores. Johnson ran 247 times for 1,669 yards and 28 TDs this fall, and for 1,916 yards and 20 TDs as a junior.

Arkansas Tech gained a major late commitment, flipping Greenwood receiver Garrett Collins (5-10, 160) from Air Force. Collins played just nine games for the Bulldogs this year after moving back into the district from Oklahoma. He caught 21 passes for 393 yards and five TDs, and made 38 tackles playing in the secondary. The Wonder Boys also signed Benton quarterback Cason Maertens (6-1, 200), who passed for more than 1,600 yards in seven games (missed half of the season with a torn ACL), and Hot Springs Lakeside running back Colt Housley (6-0, 210).

Harding University signed a pair of in-state prospects: Morrilton offensive tackle Jordan Toland (6-2, 240) and Pine Bluff running back Romar Reades (5-9, 185). Reades ran 177 times this fall for 1,290 yards and 17 TDs.

UA-Monticello signed a large contingent of Arkansas high school products, including a trio of Hazen Hornets: running back Logan Penn (5-6, 165), defensive tackle Donovan Gurley (6-1, 300) and defensive end Khalid Mills (6-0, 220). Gurley, the Farm Bureau Awards Class 2A Defensive Player of the Year, racked up 245 career tackles. Mills made 107 stops this season, while Penn rushed for more than 2,000 yards.

Keiandre Purifoy (6-0, 190) from Smackover, the Farm Bureau Awards Class 3A Defensive Player of the Year, headlines Southern Arkansas' recruiting class. Purifoy racked up 124 tackles this fall, but projects at running back in college. Purifoy ran for 903 yards and 10 TDs this fall and for 808 yards a year ago. Pulaski Academy linebacker Corbin Witham (5-11, 185) and Hamburg cornerback Lorenzo Watkins (5-11, 170) signed with SAU. Witham recorded 109 tackles this fall, while Watkins made more than 40 stops. Watkins won the 110-meter hurdles (14.79 seconds) at the Meet of Champs in April 2015. "He's one of the premier shutdown corners in the state," Hamburg coach Cecil Ray Cossey says. Nashville defensive end Troy Thomas (6-4, 230) signed with SAU after making 54 tackles last year, including 10 tackles for loss.

ARKANSAS TECH
Tre Chism, DL, North LR
Collin Christian, WR, Heritage
Garrett Collins, WR, Greenwood
Austin Dobbs, OL, Atkins
Cole Fritschen, OL, Bryant
Bo Gray, OL, Malvern
Colt Housley, RB, HS Lakeside
Corey Jackson, TE, Pine Bluff
Cason Maertens, QB, Benton
Austin McNeely, TE, Pottsville
Drew Turner, OL, Russellville
Sam Williams, OL, Southside Batesville
Adontae Winston, DB, Benton

HARDING
Romar Reades, RB, Pine Bluff
Jordan Toland, OL, Morrilton

HENDERSON STATE
Jeff Blake, ATH, Arkadelphia
Tonda Bullock, SS, Pulaski Robinson
Fuller Chandler, QB, Har-Ber
Zac Despain, LB, Valley View
Blake Dybala, OL, Lamar
Bailey Goza, CB, Arkadelphia
Terrell Grundy, LB, Nashville
Caleb Hicks, OL, Dardanelle
Donte Ibarra, DL, Hot Springs
Amari James, WR, LR Parkview
Cecil Langston, RB, Rivercrest
Johvoni McClendon, DB, LR Parkview
Zachary McFadden, WR, LR Central
Jacob McNeill, OL, Hot Springs
Trevor Pipkin, QB, Prescott
Ethan Simpson, TE, Fountain Lake
Riley Smith, OL, Hope
Leonard Snell, QB, Nashville
P.J. Thrower, WR, Camden Fairview
Brandon Walker, WR, Prescott
Mario Waits, DL, Bryant
Josh Witherspoon, DL, Hope
James Woods, CB, Russellville

OUACHITA
Jacob Adams, DE, Des Arc
Jordan Barlow, QB, Van Buren
Stone Boshears, LB, LR Christian
Brockton Brown, RB, Sheridan
Daniel Craig, LB, Dardanelle
Daylon Conway, LB, Des Arc
Kevin Collins, DE, Fountain Lake
Jakeymes Gates, RB, Fordyce
Sam Jackson, OL, Star City
Jon Johnson, RB, HG Haskell
Tevin Jones, DB, Nettleton
Zack Kelly, WR, Pulaski Academy
Rashad Martin, OL, CAC
Josh Plunkett, OL, Blytheville
Jacob Roberts, OL, North LR
Tyrell Robinson, TE, North LR


UA-MONTICELLO
Tavion Bass, DL, Osceola
Jodeci Booker, LB, Jonesboro
Tye Brown, QB, Star City
Ke'dren Brunson, WR, Jonesboro
Gunnar Burks, QB, Bryant
Ian Debord, TE, Corning
Brady Flemister, OL, Monticello
Joe Frazier, RB, Nettleton
Robert Futrell, DL, Wynne
Peyton Glisson, OL, Cabot
Donovan Gurley, DL, Hazen
Tru Hobbs, DL, DeWitt
D.J. Johnson, DB, Maumelle
Kushaiah Jones, RB, Texarkana
Khalid Mills, DE, Hazen
Ben Nichols, DL, Monticello
C.J. Parham, QB, Camden Harmony Grove
Logan Penn, RB, Hazen
Keaton Phillips, OL, Clarksville
Coy Simpson, OL, Watson Chapel
Jayse Snider, QB, McGehee
Chandler Stroud, OL, Hoxie
Brayden Wilson, LB, Rivercrest
Poppa Woods, DL, Hamburg
Gus Wright, LB, Siloam Springs

SAU
Jeffery Graves, WR, Clarksville
Troy Thomas, DL, Nashville
Keiandre Purifoy, RB, Smackover
Lorenzo Watkins, DB, Hamburg
Corbin Witham, LB, Pulaski Academy





"