A-State signs 27 players from 11 states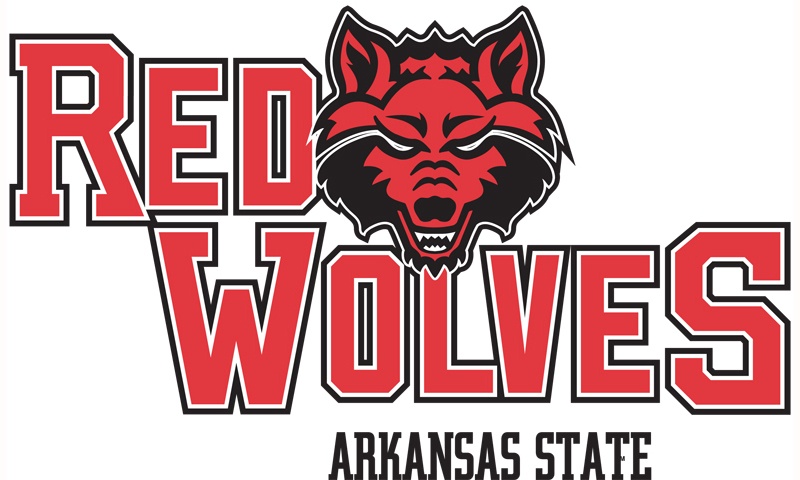 JONESBORO - Arkansas State head football coach Blake Anderson announced Wednesday the Red Wolves, winners of four Sun Belt Conference championships over the past five seasons, have signed 27 players from 11 different states as part of their 2016 recruiting class.
A-State's third recruiting class under Anderson consists of 15 high school players, nine junior college transfers and three FBS transfers. The class features seven signees from both Kansas and Texas, as well as four from Alabama, two from Louisiana and one from Arizona, Arkansas, California, Florida, Georgia, Pennsylvania and Tennessee.
"All in all, it was a good day for us," said Anderson. "We won some battles and lost a couple along the way, but from beginning to end, the staff did a great job finding what our needs were. They sorted through guys who were available, who would fit our needs, those who were truly interested in us and guys who would fit our culture. In the end, we got 27 guys that fit our needs, and we feel like today went really well."
The Red Wolves' latest class features 13 players named high school all-state, six tabbed college all-conference and four selected as high school All-Americans. While the 2016 class rankings aren't final, A-State's class could possible finish rated the highest in the Sun Belt Conference considering it entered National Signing Day among the league's top three teams by Rivals.com, Scout.com and 247Sports.com.
Arkansas State's current class consists of 12 players who have achieved a 3-star (9), 4-star (2) or 5-star (1) rating by one of the major recruiting web sites at some point during their career. Both the 2014 and 2015 A-State signing classes were ranked first in the Sun Belt Conference by Rivals.com and among the top three by 247Sports.com and Scout.com.
A-State inked 13 offensive players, 11 defensive players and three currently listed as "athletes." The Red Wolves signed five defensive backs and five wide receivers, which were the most among any position group. Joining the five combined cornerbacks and safeties on the defensive side of the ball were three linebackers, two defensive ends and one interior defensive lineman. In addition to its five wide receivers, the Red Wolves also signed four offensive linemen, two quarterbacks, a running back and a tight end.
The class is partially made up of four junior college midyear signees, including receivers Christian Booker and Justin McInnis, quarterback Justice Hansen and linebacker Kyle Wilson. FBS transfers Dee Liner (Alabama) and Cameron Echols-Luper (TCU), junior-college transfers Jamal Fontenot and Chris Murray, and high school signees Jai Knight and Chauncey Mason were already enrolled at Arkansas State University and members of the 2015 team. However, all six counted toward the 2016 class when they signed with the Red Wolves.
A-State, which has made five consecutive bowl game appearances, has claimed 44 wins over the last five years to rank among the top 25 programs in the nation in victories over that span. The Red Wolves won the 2015 Sun Belt championship with an unblemished 8-0 record, making it the only program in the nation to win four league titles over the last five seasons.
2016 A-STATE FOOTBALL SIGNING CLASS
Jacob Atnip: 6-5, 300, Fr., OL, Sheridan

Logan Bonner: 6-1, 200, Fr., QB, Rowlett, Texas (Rowlett)
*Christian Booker: 5-11, 185, Jr., WR, Union, S.C. (Dodge City (Kan.) Community College)
Brandon Bowling: 5-9, 168, Fr., WR, McKinney, Texas (Boyd)
William Bradley-King: 6-4, 240, Fr., DE, Kansas City, Mo. (Hogan Preparatory Academy)
**Cameron Echols-Luper: 6-0, 190, Jr., ATH, Auburn, Ala. (TCU)
B.J. Edmonds: 6-0, 200, Fr., S, Mobile, Ala. (St. Paul's Episcopal School)
Troy Elliott: 6-5, 302, Fr., OL, Flower Mound, Texas (Marcus)
Trent Ellis: 6-2, 194, Fr., LB, Daphne, Ala. (Daphne)
Dajon Emory: 6-3, 255, Jr., DE, Bridgeville, Del. (Lackawanna (Pa.) College)
***Jamal Fontenot: 6-4, 300, So.-RS, OL, Beaumont, Texas (Kilgore (Texas) College)
*Justice Hansen: 6-4, 220, So., QB, Edmond, Okla. (Butler (Kan.) Community College)
Javonis Isaac: 6-2, 214, Fr., TE, Lafayette, La. (Acadiana)
Landon James-Wilson: 6-0, 180, Jr., CB, Raytown, Mo. (Fort Scott (Kan.) Community College)
Vada King: 6-1, 230, Fr., LB, Smiths Station, Ala. (Smiths Station)
***Jai Knight: 6-0, 168, Fr., CB, Boutte, La. (Hahnville)
**Dee Liner: 6-3, 295, Jr., DL Muscle Shoals, Ala. (Alabama)
Torrance Marable: 5-9, 180, Fr., ATH, Decatur, Ga. (Towers)
***Chauncey Mason: 5-9, 190, So., ATH, Boynton Beach, Fla. (Boynton Beach)
*Justin McInnis: 6-6, 190, So., WR, Pierrefonds, Quebec (Dodge City (Kan.) Community College)
***Chris Murray: 5-9, 178, Jr., WR, Tampa, Fla. (Hutchinson (Kan.) Community College)
Kendall Sanders: 6-0, 187, Jr., WR, Athens, Texas (Texas)
Jeremy Smith: 5-11, 161, Fr., CB, Atlanta, Texas (Atlanta)
Jacob Still: 6-1, 295, Fr., OL, Collierville, Tenn. (St. George's)
Ben Sukut: 6-1, 185, Fr., S, San Juan Capistrano, Calif. (Capistrano Valley Christian School)
Armond Weh-Weh: 6-0, 205, Jr., RB, Houston, Texas (Scottsdale (Ariz.) Community College)
*Kyle Wilson: 6-0, 226, Jr., LB, Wichita, Kan. (Hutchinson (Kan.) Community College)
*midyear signee available for spring practice
**already enrolled and sat out 2015 season due to NCAA transferring rules
***enrolled fall 2015 and participated in the 2015 season, but counted toward the 2016 signing class
BY STATE
KANSAS (7): Christian Booker, William Bradley-King, Justice Hansen, Landon James-Wilson, Justin McInnis, Chris Murray, Kyle Wilson
TEXAS (7): Logan Bonner, Brandon Bowling, Cameron Echols-Luper, Troy Elliott, Jamal Fontenot, Kendall Sanders, Jeremy Smith
ALABAMA (4): B.J. Edmonds, Trent Ellis, Vada King, Dee Liner
LOUISIANA (2): Javonis Isaac, Jai Knight
ARIZONA (1): Armond Weh-Weh
ARKANSAS (1): Jacob Atnip
CALIFORNIA (1): Ben Sukut
FLORIDA (1): Chauncey Mason
GEORGIA (1): Torrance Marable
PENNSYLVANIA (1): Dajon Emory
TENNESSEE (1): Jacob Still
"