Hogs: Bielema calls signing class his best at UA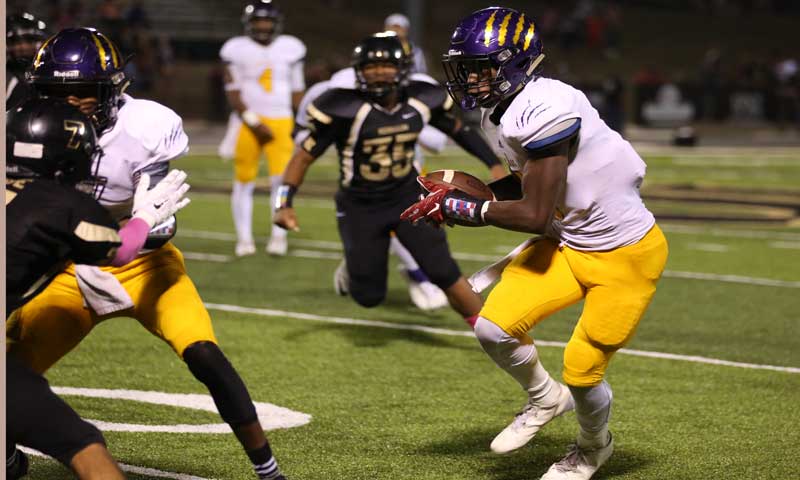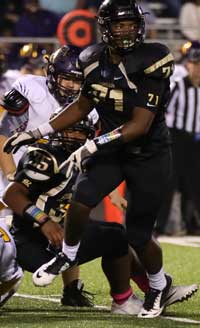 UA signee DAVID PORTER
FAYETTEVILLE -  Starting with signing every Arkansan offered, Bret Bielema called this 2017 football recruiting class the best class signed going into his fifth year coaching the Arkansas Razorbacks.
Sixteen players signed Wednesday with the Razorbacks, joining 10 who were eligible to sign in December as junior college transfers or December high school graduates.
The incoming freshmen for 2017 include Ashdown defensive back Montaric Brown (in top photo), Farm Bureau Insurance Awards 7A/6A Offensive Player of the Year finalist and Cabot athlete Jarrod Barnes, Farm Bureau Insurance Awards 4A Offensive Player of the Year finalist and Joe T Robinson wide receiver Koilan Jackson, Joe T Robinson defensive end David Porter, Farm Bureau Insurance Awards Class 5A Defensive Player of the Year and Pulaski Academy linebacker Hayden Henry and Fayetteville offensive lineman Ty Clary.
They join offensive lineman Kirby Adcock of Nashville, a December signee already enrolled at the UA and partaking of the Razorbacks' off-season conditioning program.
Henry, the brother of former Razorbacks All-America Mackey Award winning tight end Hunter Henry, Clary, and Gabe Richardson, a junior college transfer linebacker from Decatur, Ga. are so-called "blueshirts," arriving as walk-ons in 2017 to be put on scholarship in 2018 and counting on the 2018 25-man scholarship limit.
"We captured the commitment of every player we offered in the state of Arkansas," Bielema said. "And that has happened pretty regularly around here. Obviously, some kids in the state went to other schools, even some Power Fives, but they were not offered by us. I felt really good about the class getting the ones that we could."
Assessing who Bielema and his staff signed altogether, why does he deems this his best class?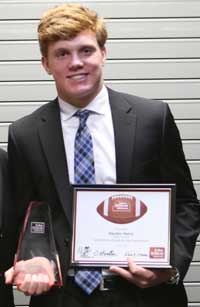 UA signee HAYDEN HENRY
"It addresses the needs that we have right now with some players that can help us immediately," Bielema said.  "I think to get those offensive players in at the positions that we did can keep our offense moving in the right direction. I think defensively, transitioning (from a 4-3 base defense)  to a 3-4, we need some more athletic-type players at linebacker and DB. Maybe some D-linemen with a little bit more girth to them that can play those ends and inside positions is a really, really big."
Graduation and departures hit the Razorbacks hard at receiver and in the secondary where the 3-4 defensive scheme puts premium on players of hybrid defensive end/outside linebacker size and abilities.
Bielema said those needs were addressed. First the secondary added Tuesday night commitment Chevin Calloway, a cornerback from Dallas' Bishop Dunne High, safety Brown of Ashdown, Kamren Curl of Muskogee, Okla., Jordon Curtis of Jenks, Okla., Korey Hernandez of Atlanta, Ga. and Jarques McClellion of Lake Worth, Fla.
"In the secondary, a couple of guys joined us here in the last two to three weeks," Bielema said. "Then of course Chevin joining us today was some icing on the cake. I really felt we had neglected that, not on purpose, but just the way it panned out the last two years. Really felt we needed some young players to step in in that role and probably excited. It might have been as deep and most established a defensive back class as I've ever been around."
Bielema cites Kyrei Fisher of Tulsa's Union High, junior college transfer Melvin Johnson, Joe T Robinson's Porter, Josh Paul of Kenner, La.. among the hybrid defensive ends/outside linebackers proliferating in the 3-4 defense.
Hayden Henry (6-3, 215) will be groomed to grow into an outside linebacker/defensive end.
Bielema said he had recruiting coordinator E.K. Franks coordinating a effort for 3-4 defensive personnel even with the Razorbacks still in a 4-3 under former defensive coordinator Robb Smith.
"I would say after the first month of the season I knew what we were going to do," Bielema said. "We were going to a 3-4 scheme. So Coach Franks and I drew up our numbers in the board meeting room. We took our current roster and divided it up into a 3-4 look."

The graduation of receivers Drew Morgan, Keon Hatcher, Cody Hollister and Camden Fairview's Dominique Reed had Bielema scurrying for receivers like a Spread coach, which he is not.
That's why he signed JC transfer receivers Brandon Martin and Jonathan Nance of Mississippi Gulf Coast Community College, Jackson (the son of former Oklahoma Sooners All-America and All-Pro tight end Keith Jackson), Barnes and Barkley.
"We knew we were going to go after a couple of junior college guys," Bielema said. "The first guy we went after, the highest guy on our board was Brandon Martin. From the time we evaluated junior college film. I just fell in love with his film, but then you get a chance to visit with him. His demeanor, his personality, I always make reference when … we always have the recruits out to our house and when Jen (Bielema's wife) saw Brandon she's like 'Is that a defensive end?' I go 'No, that's a wideout.' And anytime someone gets involved with those two differences it's kind of funny. But he's been very, very good. Him and Jonathan Nance obviously have a relationship.  I just walked by Michael's  (receivers coach Michael Smith's) office. They were both up in there studying film right now. The two in-state guys: Koilan is probably one of the more underrated recruits in our class. I think he is an exceptional athlete.  He's big, he's strong. He hasn't really played the wide receiver position all that much. He's mature. He's developed. Intelligent."
As for Barnes, Bielema touted his athleticism for his basketball defense helping Cabot beat Bentonville and Malik Monk, the current Kentucky freshman star, in the 2016 state championship game.
"Jarrod's a really, really good athlete," Bielema said. "A guy that probably can play multiple positions for us."
At running back, Bielema said he signed a bruiser in Maleek Williams, (6-0, 230) and a speedster in Chase Hayden (5-11, 195) of Memphis.
On the offensive line, the Razorbacks in December signed (6-9, 320)  freshman Daulton Wagner and Adcock and on Wednesday added Shane Clenin (6-6, 295) of Festus, Mo. and Clary.
With Austin Allen back for his senior year at quarterback and Cole Kelley redshirted last year and Ty Storey returning after working as  last year's nominal backup, Bielema signed one quarterback Dalton Hyatt of Attala, Ala.
Bielema said offensive coordinator Dan Enos has "been on Dalton Hyatt for two years."

Jeremy Patton, the tight end signed in December from Arizona Western Junior College, is completing his junior college degree online at home in Indianapolis and on course to join the Razorbacks this summer, Bielema said.
Bielema said he used being on the road in recruiting as occasions to interview candidates numerically to replace Robb Smith.
Defensive backfield coach Paul Rhoads was elevated to defensive coordinator, but the Razorback are one short of the nine-coach full-time limit presuming all assistants remain with signing day completed.
Bielema said he is continuing to research and interview candidates for the one vacancy and intends to have his staff complete by the Feb. 20 phase of offseason conditioning.

Arkansas 2017 football recruiting class
DECEMBER SIGNED AND SPRING SEMESTER ENROLLED:
1. Brandon Martin WR  6-4  205  Mississippi Gulf Coast JC
2. Daulton Hyatt     QB  6-4   182  Attalia, Ala.
3. Daulton  Wagner  OT  6-9   320   Richmond, Ill.
4. Kirby Adcock        OT  6-5 280    Nashville, Ark.
5. Kyrei Fisher         OLB 6-2  230  Tulsa, Okla
6. Shane Clenin       OT   6-6  255   Festus, Mo.
7. Maleek Williams   RB   6-1, 215   Punta Gorda, Fla.
8. Korey Hernandez  DB   6-0 175   Ellenwood, Ga.
9. Jonathan Nance   WR  6-1  180 Mississippi Gulf Coast JC

SIGNED DECEMBER  LETTER OF INTENT COMPLETING ACADEMICS
10. Jeremy Patton     TE  6-6   230 Arizona Western JC

SIGNED WEDNESDAY
11. Montaric Brown    DB  6-0   182    Ashdown, Ark.
12. Chase Hayden    RB  5-10 289   Collierville, Tenn.
13. Kamren Curl        DB  6-2   180    Muskogee, Okla.
14. Maleek Barkley    WR  5-10  180   Austin, Texas
15.  Jarrod Barnes      WR  5-10  167   Cabot, Ark.
16. Koilan   Jackson     WR  6-3   207 Little Rock Pulaski Robinson
17. Jarques McClellion  DB 6-0    180  Delray Beach, Fla.
18. De'Vion Warren     WR 5-10  170   Monroe, La.
19.  Derrick Munson    OLB  6-0   200  Metairie, La.
20. David Porter           DE    6-4  230   Little Rock Pulaski Robinson
21. Jordan Curtis          RB   5-11  180  Jenks, Okla.
22. Melvin Johnson      DT    6-3    255   Riverside, Calif. JC
23. Chevin Calloway     CB   5-11   183   Dallas, Texas

BLUESHIRT SIGNEES WALKING ON FOR 2017 TO COUNT ON 2018 SCHOLARSHIPS
24. Hayden Henry        LB   6-3   215   Little Rock Pulaski Academy
25. Ty Clary                  OL  6-4   285    Fayetteville
26. Gabe Richardson   OLB   6-4   240  Hutchinson (Kan.) JC