No. 1 Bama to test resolve of hurting Hogs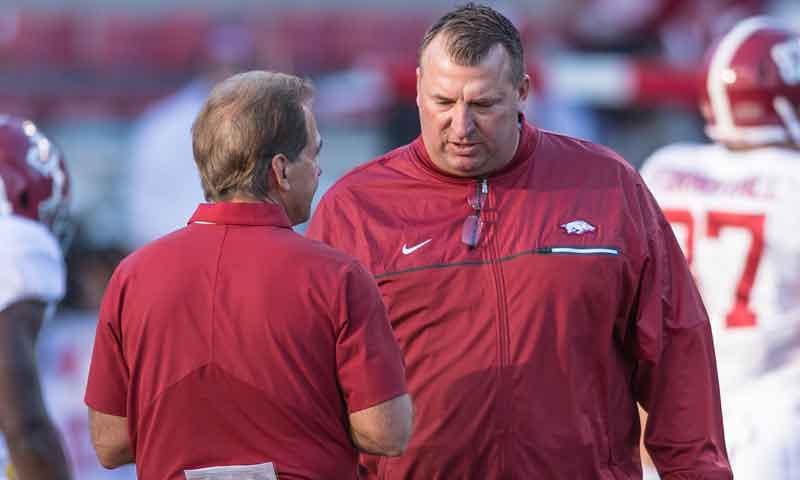 Hog QB Austin Allen
FAYETTEVILLE - Presumably the Arkansas Razorbacks spent Thursday evaluating senior starting quarterback Austin Allen's ailing throwing shoulder, while preparing redshirt Cole Kelley to start and third-year sophomore Ty Storey as the backup if Allen can't play.
The QB predicament fuels the underdog fire that has had oddsmakers casting Arkansas as a 30-point underdog in Saturday's 6:15 p.m. ESPN-televised game  against Alabama at Bryant-Denny Stadium in Tuscaloosa, Ala.
SABAN ON ARKANSAS QBs
Nick Saban, who has not lost to Arkansas as Bama's head coach, points to the contrast in styles of Allen (6-1, 215) and Kelley (6-7, 268). Allen passed for 400 yards and three touchdowns on Alabama in last season's 49-30 loss to the Tide while taking a physical pounding nearly every throw with three interceptions.
"Allen is a great passer. Very athletic, quick, can make all the throws," Saban said. "The second guy is a little different style. I'm not sure that would change their offense, but when he has played, they've done more quarterback runs. This guy is like 6-7, 270 pounds. In fact, when I first started watching the film, I thought he was a Wildcat quarterback that was a tight end, but as he's played more, he has a good arm. He can throw the ball effectively."
Kelley ran twice at South Carolina for 23 yards. He completed eight of 13 passes for 140 yards and a TD with an interception.
"I don't know if they'll change styles with him as the quarterback so we have to prepare for some things that they could do with him," Saban said. "But we can't really change because we don't really know and we'd be defending ghosts if we tried to figure it out. So we may have to adapt in the game."
Charleston's Storey (6-2, 212) brings a style similar to Allen, Arkansas coach Bret Bielema said touting Storey's recent practices.
Bielema's Razorbacks enter 2-3 overall and 0-2 in the SEC coming off a 48-22 SEC whipping at South Carolina during which Allen injured his shoulder. Saban's top-ranked Tide rolls 6-0, 3-0 with a healthy QB in Jalen Hurts, who dazzles with his feet and his arm, a great offensive line, four formidable running backs, the SEC's most renowned receiver, a great kicking game and the most feared defense in college football.
Alabama ranks first nationally in run defense (73 yards per game), fourth nationally in scoring defense (10.3 ppg), fifth in total defense (259 ypg), 11th in turnovers gained (13) and 25th in pass defense (186 ypg).
RAZORBACKS RESOLVED
Bielema says his Razorbacks have resolve, which seems half the battle that so many believe Alabama, winning 10 straight over Arkansas, has won before it kicks off.
"The good news is we have good kids who haven't shown any bad signs of losing that hope," Bielema said.
Bielema said he hasn't seen: "Any lack of effort. Any lack of discipline. Any in-fighting. Anybody going at one another. It's more of a message of unity and persevering."
THEY TURNED DOWN TIDE
Bielema can also look at his Arkansas roster and find players who were recruited by Saban for Alabama but chose Bielema and the Hogs.
On the defensive unit, senior noseguard Bijhon Jackson of El Dorado, sophomore end McTelvin "Sosa" Agim of Hope, and sophomore  middle linebacker D'Jon "Scoota" Harris of Harvey, La., turned down the Tide to come to Arkansas.
Jackson said he didn't visit Alabama because he was "all Hog." Agim visited Alabama and was impressed but even more impressed with Bielema.
"Where I'm from, if you get an Alabama offer, that's the cream of the crop," Agim said. "So, I most definitely took the visit. Nick Saban is a brilliant mind. I like how he coaches and everything like that. Mad respect for him and everything."
But Agim believed in Bielema and where the Hogs were headed.
"I felt like he was on a route to turning this program around, and I wanted to be a part of that," Agim says. "I wanted to be at the forefront of it and not at the back end."
Harris said he was committed to Arkansas when he visited Alabama.
"I just took the visit to take the visit," Harris said of the honor of being recruited by Alabama. "It was a good feeling to be wanted by (Saban). But it wasn't hard for me to tell him no, because I didn't have any interest in going there. For other players, it's probably hard for them. But I was already committed to Arkansas and I think it was just a week or two before signing day."
GUIDRY AND PETTWAY TRAVELING
Redshirt freshman reserve defensive end Briston Guidry and third-year sophomore reserve receiver LaMichael Pettway, who did not make the South Carolina trip, are back in good team standing and traveling to Alabama, Bielema said.