Hogs will own Mizzou loss; coaches recruit; notes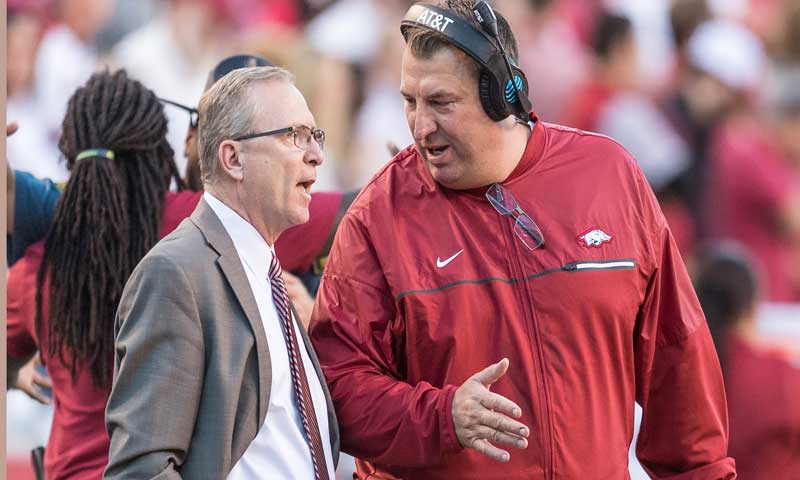 FAYETTEVILLE - NCAA Division 1 football teams can send up to six coaches on the road for this recruiting contact period.
For Arkansas (7-5 overall, 3-5 in SEC), the coaches not traveling this week will supervise developmental practices for seldom-used reserves and those redshirting this season, which will conclude in a bowl game to be named Sunday.
As for those who played last week during the 28-24 loss at Missouri, Arkansas coach Bret Bielema isn't ready for them to move on after losing a 24-7 halftime lead to the only SEC team the Razorbacks were favored to beat.
"First, we have to take this film and own it as coaches and players," Bielema said. "Give our guys a better position to win football games.The worst thing we can do is leave this here. We have to carry it home with us. We have to own it. We do have another opportunity to play in a bowl game. We'll have a lot of good work with our young players. We have to take this opportunity and  maximize this as a learning opportunity the best way possible."
Bielema has coached Arkansas since 2013, arriving after from 2006-2012 coaching Wisconsin teams fabled for wearing teams out in the second half and being physically overpowering on the goal-line.
In Columbia, Mizzou repeatedly denied Arkansas in the red zone and dominated the second half scoreboard, 21-0.
"Our guys are hurting and they should," Bielema said after the game. "There is no doubt in my in that our guys will own it, embrace it, and make the best of a bad situation."
For now, it seems Bielema won't be finished with this loss to Missouri until he sees his Razorbacks finish an opponent.
"What I believe in is finishing," Bielema said in Columbia. "Finishing the season, finishing the game, finishing the drive, finishing the series, and finishing the play. And we weren't able to do that and that's really frustrating."
Sophomore running back Rawleigh Williams said Bielema cut to the chase on what transpired.
"We gave that game away," was Bielema's message, Williams said. "We had it. It is a four-quarter game and we didn't play four quarters. We gave the game away. It is going to hurt for awhile."
The Razorbacks play two trophy games per regular season. They play for the Golden Boot against the LSU Tigers and the Battle Line Rivalry Trophy against the Missouri Tigers.
In 2015 the Razorbacks won the Golden Boot in Baton Rouge, La., and the Battle Line trophy in Fayetteville.
This season both are bereft from the Arkansas trophy case.
"It's awfully tough to lose that trophy," Arkansas junior safety Josh Liddell said post Mizzou. "We have to come back harder. So next year we will be ready, ready to fight for it and bring it back home. For me personally, this is the most disappointing loss of my career. It's tough. We will look at the film. We'll be ready for the bowl game."