Hogs: gauntlet of ranked opponents over; more notes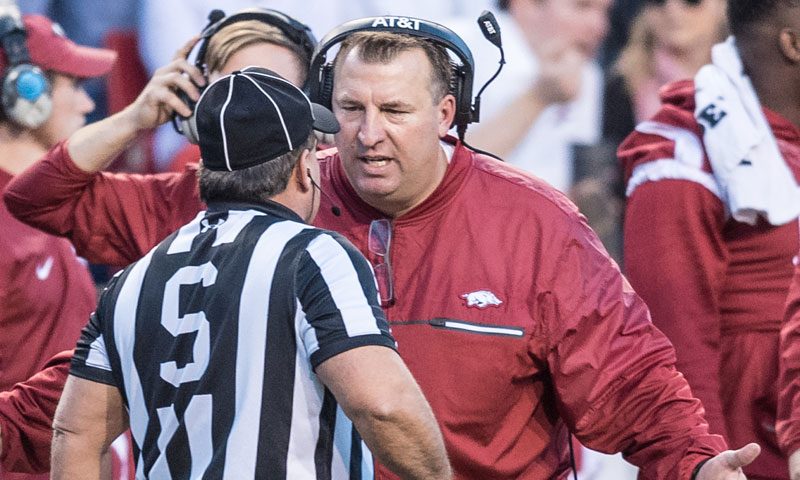 FAYETTEVILLE - Every week since his 6-4 Razorbacks' fourth game, Arkansas coach Bret Bielema alternately opens his Monday press conference picking up the pieces from defeat or hoping the corner has been turned in victory
Monday marked picking up the pieces. LSU lashed Arkansas 38-10 Saturday night.
As drubbings go, it was less seismic than the 56-3 earthquake of Oct. 22 when Auburn rocked the Hogs, but in some ways even less palatable.
Because this lopsided loss, on the heels of Arkansas buffering the Auburn annihilation by flogging Florida, 31-10,  was Arkansas' Senior Night 2016 season farewell at Reynolds Razorback Stadium.
"The message to our guys was obviously that we didn't play at our best from a team that played so well the week before," Bielema said.  "To come out and do what we did is obviously not acceptable and can't be tolerated. I think the part on Sunday (at the team meeting and practice) that was really more aggravating for me than anything was to have those seniors' final memory in that stadium be kind of the clunker that it was."

ON THE REBOUND
Bielema expects the Hogs (2-4 in the SEC West) to rebound in Saturday's  6 p.m. ESPNU-televised SEC West game at Mississippi State (4-6 overall and 2-6 in the SEC West).
Off their three previous losses to Texas A&M, Alabama and Auburn, the Razorbacks rebounded for a non-conference rout of Alcorn State and SEC successes over then-No. 12 Ole Miss and then-No. 11 Florida.
Arkansas faces its first unranked opponent, Mississippi State, since it thumped Alcorn State on Oct. 1. The Razorbacks travel Friday, Nov. 25 after Thanksgiving at the Missouri Tigers' Faurot Field in Columbia, Mo.

Arkansas' 2-4 SEC record, starting with Texas A&M Sept. 24, is entirely based against ranked teams, including No. 1 Alabama. In non-conference, TCU of the Big 12 ranked 15th when the Hogs beat the Horned Frogs Sept. 10 in Fort Worth.
LIFE IN THE SEC
It's been more of a gauntlet than a schedule, but Bielema said he always knew that when he left Wisconsin and the Big Ten after seven successful years to come to Arkansas and the SEC.  That's the challenge players accept upon signing to be Razorbacks.
"I thought our guys were very resilient yesterday," Bielema said Monday.
GUICE AND FOURNETTE RUN RAMPANT
Bielema and defensive coordinator Robb Smith were asked Monday about a wildly inconsistent Arkansas rushing defense that got trampled for 543 yards rushing by Auburn, stifled Florida to 12 yards rushing, then was gashed by LSU running backs Derrius Guice with a career night 252 yards and two touchdowns on 21 carries. LSU's Leonard Fournette carried 17 times for 98 yards and three TDs.
Arkansas excelled against Florida, but Florida doesn't have running backs like Fournette and Guice.
"They were very impressive," Smith said. "Those guys had good patience at times, had good burst and acceleration. My hat's off to them. I thought there were things they did really well, and I think there were things we did that made their life easier. We have got to improve if we want to do a better job against the running game this week."
REED FLASHES IN AND OUT
Finally flashing his prowess of last year by beating LSU deep to catch a 44-yard TD pass from quarterback Austin Allen, senior speedster Dominique Reed could appear more in the receivers rotation against Mississippi State.
Not necessarily.  The alum of Camden Fairview High and second-year Razorback from Coffeyville (Kan.) Community College didn't improve his stock off the field with Bielema.
"He was late for a Sunday workout, so we had a little come-to-Jesus meeting yesterday," Bielema said. "Until he decides to buy in, it's probably gonna be the amount of reps he gets.  If he truly would get right with the world, he'd have an opportunity to play beyond here (NFL), but if the same thing consists right now, it'll be short lived."
BIELEMA CONSULTS RAGNOW CORNELIUS
Bielema sees junior center Frank Ragnow and junior receiver Jared Cornelius (27 catches for 480 yards and four touchdowns plus 48 yards rushing with a touchdown on nine carries) exploring the NCAA-allowed procedure of getting evaluated by and talking with NFL personnel with the option of returning to school or declare for the draft.
"I had a conversation with Frank and J-Red both during the bye week," Bielema said. "We sat down and talked about what was going to be in front of us. I can see these things begin to happen and I realize the caliber of player they are."