Hogs: Starting QB for LSU likely Kelley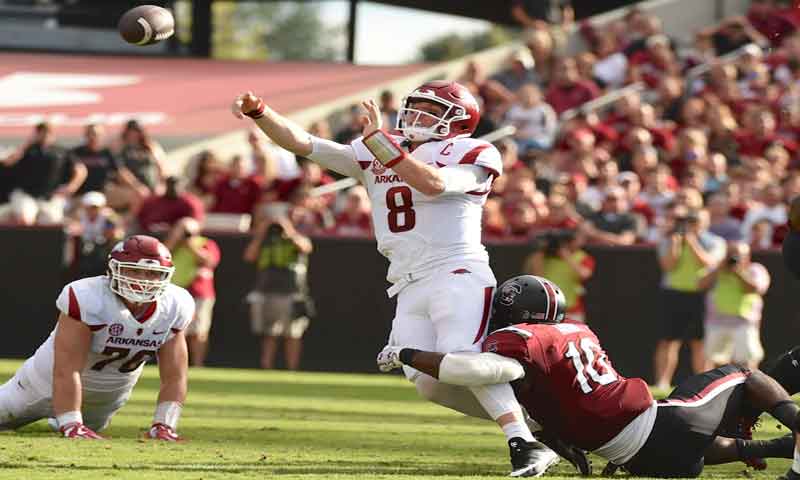 By OTIS KIRK
FAYETTEVILLE - There is no quarterback controversy at Arkansas, yet, but that may change Saturday when it appears senior Austin Allen and redshirt freshman Cole Kelley will be able to play.

The Razorbacks (4-5, 1-4) play at 11 a.m. Saturday at No. 25 LSU (6-3,3-2), which lost earlier this season to Sun Belt member Troy 24-21. Arkansas rallied past Sun Belt and first-year FBS member Coastal Carolina (1-8) last week, 39-38. ESPN will televise Saturday's game.

This marks the first time since the Oct. 7 South Carolina game that UA coaches know early in the week both QBs can play. Allen was available against Coastal Carolina, but head coach Bret Bielema stuck with his starter, Kelley.
Allen practiced last week from Wednesday forward and is cleared to play. Bielema said Allen would have played last week had he practiced early in the week.
"We could have put him in the game on Saturday," Bielema said, "but obviously the way the game unfolded we didn't want to put him into that situation. We wanted to keep the flow of the offense going the way it was and continue to grow him (Kelley)."
While Kelley is not missing practice time, he's the one nursing an injury this week, a bruised toe that Coastal Carolina stepped on in early in the game.

"I'll just alert everybody, just in case," Bielema said. "Cole actually got his foot stepped on, or his toe stepped on and got an extreme turf toe. So he's in a little bit of a boot but is fully functional. Shouldn't be an issue for him during the course of practice and preparation for the game. Just real sore, nothing structural. Just a really, really sore bruised toe.
Allen started the first five games this season, completing 66 of 117 passes for 850 yards and eight touchdowns with four interceptions. Kelley replaced Allen in the fourth quarter at South Carolina when Allen injured his throwing shoulder.
With Allen sidelined, Kelley has completed 84 of 141 passes for 1,002 yards and eight touchdowns with three interceptions.

"I think we'll get into later in the week to find out exactly how healthy everybody is," Bielema said. "But I do think the neat thing for us on Saturday was we had told Austin we expected to get him in the game, and there probably was not a better guy on the sidelines for working with Cole.
"I saw Austin step in when maybe we had a drop and he talked to the guys about making plays on critical downs. So his leadership skills have been outstanding and his desire to win. I think a lot of kids in those situations would maybe turn the other way or not be as engaged in the game. It just shows the competitive spirit he has. I would tell you this, I bet you no one's pulling for Austin to play more than Cole. If that makes sense, and vice-versa."
If Allen starts, his first game back will be against an LSU defense that ranks fifth in the SEC and 17th in the nation in total defense. LSU rankd No. 31 nationally in scoring defense (20 ppg).
"Although Austin didn't get fully cleared until last week, he's been involved in practice the two weeks prior to that, so it's not like he's coming in just cold this week and playing," Bielema said. "He totally expected to play Saturday. I think his team expected him to play, and because he's gotten so many reps in practice, it makes you feel good.
"But there obviously is a concern, you know, any time you have a guy who hasn't played to step in, especially at a place as daunting as LSU's stadium is and as good as there defense is, that could be an issue. I would be very, very comfortable with Austin playing, from one rep to every rep."
Kelley is one of 14 Razorbacks from Louisiana. He played high school football at Lafayette Teurlings Catholic.
"They'll (Cajun Hogs) be excited," Bielema said. "I think you've to be a little bit cautious with it. For instance, Cole's a young quarterback in his career who's very excited. He's always a guy who plays with high energy and high emotion, and now he goes to his home crowd and he's a starting quarterback. That's a lot of emotions for him to deal with. You've just got to try to temper it all week and get him to play within himself."
Did you just name Kelley the starting quarterback?
"Well, I think he can be the starter, absolutely," Bielema said realizing what he had just said. "There's no reason to change where we're going. I think obviously to give us the best chance to win, you've got to take that part into it. But again, like said last week, going into the game against Coastal Carolina and this week, we've got two quarterbacks that have started and done a nice job."
Enos said his QBs will split reps Tuesday and see who feels and executes the best.

"Cole got the lion's share (of reps) last week," Enos said. "This week I think Austin feels better. Yesterday, he did. We will see where they both feel tomorrow and who we think is gonna be the most healthy and give us the best chance at winning."
Bielema expects tight end Cheyenne O'Grady, safety De'Andre Coley and cornerback Britto Tutt to play Saturday.
The Razorbacks will play host to Mississippi State Nov. 18 at 11 a.m. on CBS or at 6 p.m. on ESPN or ESPN2.