Hogs: Bielema still high on QB Allen, to name PK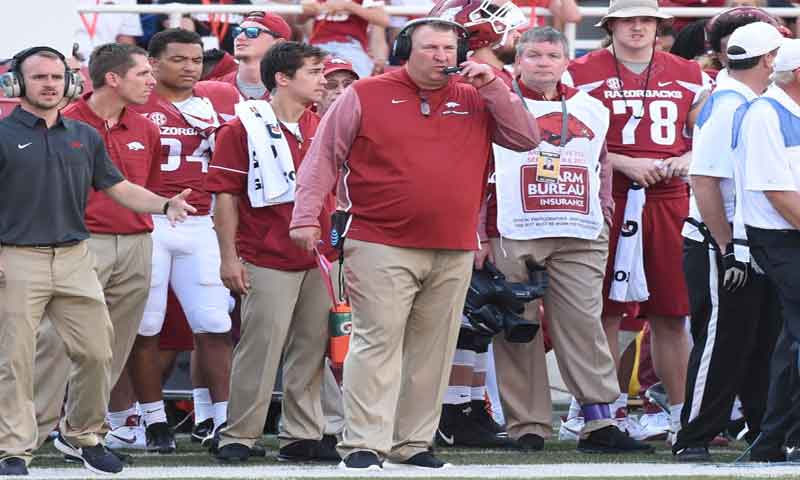 FAYETTEVILLE - Arkansas coach Bret Bielema presented multiple options Wednesday but no concrete answers on whether sophomore walk-on kickoff man Connor Limpert or true freshman walk-on Blake Mazza would replace Cole Hedlund as the Razorbacks' place-kicker Saturday against Texas A&M.
The Razorbacks (1-1) and Coach Kevin Sumlin's Aggies (2-1) open their SEC seasons at 11 a.m. Saturday on ESPN at the Dallas Cowboys' AT&T Stadium in Arlington, Texas.
Junior scholarship and two-year letterman Hedlund went to the end of the place-kicking line after missing 23- and 20-yard field goal attempts in a 28-7 loss two weeks ago to TCU.
Limpert lists first on the depth chart, but that's strictly on seniority, Bielema said before the Razorbacks practiced Wednesday afternoon.
"It's going to be on who performs the best in the most live situations we can make up before game time," Bielema said. "I don't want to air mail our game plan. We have a left-footed kicker (Limper) and a right-footed kicker (Mazza). So I prefer to keep that to ourselves until Saturday."
Bielema and Sumlin commented on their quarterbacks.
Arkansas fifth-year senior Austin Allen led the SEC in passing in 2016 but wasn't sharp in the season-opening (49-7) romp of lower division Florida A&M. Allen completed nine of 23 against TCU.
"We try to make it the best we can for Austin," Bielema said. "We have five wide receivers from last year and four of the five signed NFL contracts and the other one, J-Red (Jared Cornelius coming off hamstring and back injuries) is just getting back with us full time. That's a huge impact. And a tight end (2016 senior Jeremy Sprinkle) is playing for Redskins. So, I think the guys involved in the passing game changed dramatically. Up front we've got to get better, give him protection to get everybody operating on all cylinders."
That was among the goals when Bielema vowed minutes after the loss to TCU that the Razorbacks "need to be the most improved team in America" when they next played against the Aggies.
"I'm excited," Bielema said of the Hogs' progress through an open date week and this game-week. "It's our third game, and everybody is healthy and hopefully we'll have better results on Saturday."
As for Allen individually, Bielema said Wednesday: "It's still the same kid who can really throw the football. Yesterday's skelly was about as good as he's had all fall camp. We only had one incomplete pass the entire session. I think he's feeling better, and everyone around him is feeling more confident."
The bye week gave the Hogs extra time to fight ghosts, including an 0-5 record against A&M since the Aggies joined the SEC. Consecutive Power Five conference opponents have outscored Arkansas 70-0 in the second halves of 28-24 and 35-24 losses to Missouri (SEC) and Virginia Tech (ACC) in 2016 and TCU's two fourth-quarter TDs two weeks ago.
"We're fighting to get over that hump," Bielema said. "We're scratching every day, and when that hump day comes a lot of good things will happen. But this Saturday A&M is the only hump we're worried about. We have to play a four-quarter game."
Sumlin's Aggies fight demons of their own. They blew a 44-10 lead and lost their season-opener 45-44 at UCLA and were tied 14-14 by lower division Nicholls State into the fourth quarter before winning 24-14. A&M led Louisiana-Lafayette 21-14 at half before pulling away for a 45-14 victory engineered by true freshman QB Kellen Mond.
"I think he's gotten better every week," Sumlin said Wednesday.
The improvement, Sumlin said, stems from Mond and the coaches better communicating what Mond does and doesn't do well.
"I think with a young quarterback it's not about what he can do, it's what he doesn't like to do," Sumlin said. "As coaches we start to feel where he is and what he likes to do. We don't give him the whole menu.  I think where he is right now, we've got a better feel for him and he's got a better feel of the offense and the players around him."
Bielema said the Aggies, led by All-SEC receiver Christian Kirk, have the skill players to give a young QB confidence.
"He's obviously a very gifted athlete," Bielema said. "But I thought the part that was different in the second half (against Louisiana-Lafayette) for him was he really threw the ball with some confidence. When you've got a young player, especially at quarterback, you've just got to weather the storm, try to make it easy around him. I know that's what they're trying to do."