HOGS: D-end not so deep now; more notes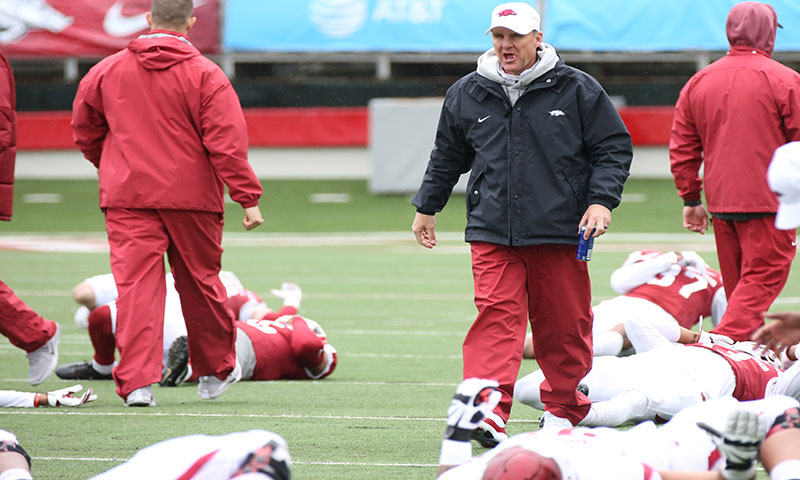 FAYETTEVILLE - Arkansas' deep, defensive end positions dwindled a little more on Wednesday.

The Razorbacks play host to Eastern Illinois at 3 p.m. Saturday at Reynolds Razorback Stadium and on the SEC Network.

Junior defensive end Jamario Bell of Junction City, not listed in the 2-deep but in the six-man rotation that defensive coordinator John Chavis projected to play Saturday, hobbled out of the first 20 minutes of Wednesday's practice.

Bell was on the brink of starting last year when he broke his foot during the August preseason. He didn't return to active duty until playing on special teams the final two games against Mississippi State and Missouri.

Senior Randy Ramsey, a projected starter since last spring and posted first-team on this week's practice, has been limited in practices because of hamstring issues. Junior Gabe Richardson, first-team most of the preseason, likely will start if Ramsey doesn't.

Senior Michael Taylor is listed first team at the other defensive flank with junior college transfer Dorian Gerald in reserve.

Starting junior defensive tackle McTelvin "Sosa" Agim played end all last season and has been schemed to play both end and tackle this season.

Before Wednesday's practice, head coach Chad Morris spoke of the availability of Ramsey and reserve tight ends Jeremy Patton and Grayson Gunter, also recently limited by injuries.

"A lot will be depend on how today goes, tomorrow and they worked out yesterday," Morris said. "Getting better every day. We'll wait and see as it gets closer to the game on that."

MAN WITH QB PLAN
Morris said Wednesday that third-year sophomore Cole Kelley will start at QB but that fourth-year junior QB Ty Storey of Charleston will play.

"We'll have a plan for it," Morris said. "We'll make sure with that plan that they're ready to go with it. The guys will be excited about the opportunity. I'm excited for Cole. I'm excited for Ty and just where we're going to get this thing started off."

Is this approach like quarterbacks auditioning?

"No, not really," Morris said. "We're just excited about Cole is gonna start and Ty is gonna play. He's gonna play early. They're gonna have their opportunities."
FIVE CAPTAINS
For Game One, Morris named linebacker Dre Greenlaw, a senior from Fayetteville, junior De'Jon "Scoota" Harris and senior safety Santos Ramirez, senior receiver Jared Cornelius and senior center Hjalte Froholdt as captains.

Captains will change game to game, Morris said, before he names permanent captains.

GOOD GUYS WEAR WHITE
Arkansas fans long accustomed to seeing their Razorbacks in red jerseys at home and white jerseys on the road have a white-out coming Saturday.

Morris said the Hogs will open the season clad in white jerseys and white pants topped by white helmets.

"I'm excited about it," Morris said. "It's something we've talked about and plan to do. It will be a great way to start the season off."

The new coach says he's stayed well apprised of old game day traditions, including "running through the A" formed by the spirit groups.

Morris said tight ends coach Barry Lunney, Arkansas' quarterback from 1992-95, and Bobby Allen, at Arkansas since 1998 as either a defensive coach or in administration, especially kept him apprised.

"Yeah, actually we have watched film of it," Morris said. "We've talked about it with Coach Lunney and Coach Allen and just the tradition of running through the A and how special that moment's going to be for not just me and our coaching staff, but for these players. We just want to make sure we're representing Razorbacks of the past, the present and the future."

NOT ABOUT HIM
Morris was asked if he's reflected on Saturday's gameday start to his Arkansas career.
"I'm just excited," Morris said. "I'm excited for these players. Excited for our staff. Excited for our state. It's not about me. It's about all these guys who are putting in all the time and effort. I will be excited to be on the sidelines with these guys as we kick this journey off. "