A-State vs C. Florida in Cure Bowl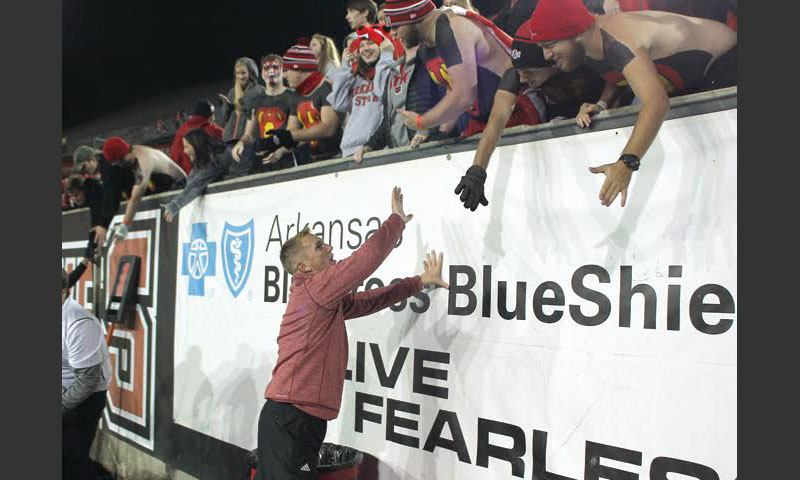 JONESBORO – Arkansas State announced Sunday that its Sun Belt Conference champion football team has accepted an official invitation to play American Athletic Conference member Central Florida at 4:30 p.m. Dec.17 in the 2016 AutoNation Cure Bowl. .
The Red Wolves, making a school-record sixth consecutive bowl-game appearance, will face the Knights at Camping World Stadium in Orlando, Fla., in a CBS Sports Network-televised game.  A-State will be making its first appearance in the Cure Bowl, which played its inaugural game last year, and competing in its 14th all-time bowl game.
"The Cure Bowl is in an outstanding location, and we are excited for everyone associated with our program to experience a new bowl game in one of the most visited parts of the United States," said A-State Director of Athletics Terry Mohajir.  "I am very familiar with the state of Florida and UCF, so I know this will be both a great destination and opponent for our team and fans.  The Cure Bowl presents a strong match-up against a team from the American Athletic Conference."
Arkansas State most recently played in the 2015 New Orleans Bowl, which followed four consecutive trips to the GoDaddy Bowl, now known as the Dollar General Bowl.
A-State, the only FBS program in the nation to win five conference championships over the last six seasons, completed the regular season with a 7-5 overall record and 7-1 mark in Sun Belt play.  UCF finished its regular season 6-6 overall and 4-4 in league play to place tied for third in the East Division of the AAC.
"I'm extremely proud of our team and the way they fought through adversity this year, not only to win another Sun Belt Conference title, but also to earn an opportunity to compete in the Cure Bowl and finish our season on a high note against a great opponent from the American Athletic Conference," said A-State head coach Blake Anderson.  "The Cure Bowl offers our players and fans an outstanding experience in Orlando, and while UCF will be a challenging opponent, we are looking forward to the game as we try to complete our season by winning eight of our final nine games."
A-State began the season with an 0-4 non-conference record before starting league play by running off six consecutive victories and completing the regular season by winning seven of its last eight contests.  In the process, the Red Wolves secured a winning record for the sixth consecutive season for the first time since 1912-17.

Arkansas State and UCF will meet for just the second time in school history, also playing during the 1991 season.  UCF claimed a 31-20 road victory in that game.  The Red Wolves are also set to play their first game against an American Athletic Conference member since facing Memphis in 2013.
Arkansas State fans are strongly encouraged to purchase tickets for the Cure Bowl through the A-State Ticket Office to directly support the Red Wolves' bowl trip and to ensure they receive priority seating within the designated Arkansas State area.
Fans can purchase tickets, as well view additional details regarding A-State's trip to the Cure Bowl, online by visiting www.AStateRedWolves.com/BowlCentral.  Sideline tickets and end zone tickets are available for $53 and $28, respectively.
Fans can also purchase tickets by visiting the A-State Ticket Office in person at the lower-red entrance to the Convocation Center or by calling 870-972-2781.