Bielema, K-State coach Snyder trade few barbs, much respect at Liberty Bowl presser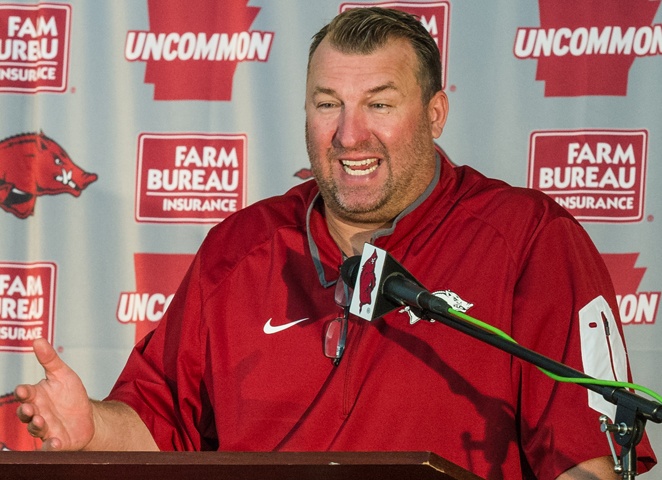 | | |
| --- | --- |
| | |
| | HOG hc BRET BIELEMA |
FAYETTEVILLE - Opposing Liberty Bowl coaches Bret Bielema of Arkansas and Bill Snyder of Kansas State coached together in 2002 and 2003.

Even over the phone, you could sense their bond at a joint press conference Thursday in Memphis, also made available via teleconference to media.

Memphis is the site for the Jan. 2 game when Bielema's 7-5 Razorbacks and Snyder's 6-6 Wildcats collide at 2:20 p.m. on ESPN.

Snyder, 76, coached Kansas State from 1989-2005 and again after coming out of retirement in 2009. He was inducted Tuesday night in New York into the College Football Hall of Fame.

Back in 2002, Snyder hired a younger and slimmer, Snyder quipped, Bielema from Iowa where Bielema had played noseguard for Hall of Fame coach Hayden Fry and coached linebackers for Fry and current Iowa coach Kirk Ferentz, to be the co-defensive coordinator at Kansas State.

Bielema co-coordinated two years at Kansas State and was the sole defensive coordinator in 2004 and 2005 at Wisconsin for Hall of Fame coach Barry Alvarez, whom Bielema succeeded as head coach in 2006 before coming to Arkansas in December 2012.

"He was about 200 pounds lighter," Snyder said to guffaws of the Razorbacks' large coach, whom Snyder praised expansively as "knowledgable, demanding, compassionate, not afraid to express his opinions but at the same time a team player."

Bielema's reverential respect for Snyder is obvious. He was "six months booked" for New York last Sunday night for Snyder's Tuesday induction before the Arkansas vs. Kansas State Liberty Bowl pairing was announced Sunday afternoon.

Still, the respect is so mutual that Bielema quips back to his mentor.

Asked about K-State's quarterback situation, which has played Joe Hubener and Kody Cook in every game, Snyder said both "are able to go."

"If we have to go below that, it'll be me," Snyder said. "We've probably got a chance then," Bielema interjected to laughter.

"You don't know that for sure," Snyder retorted to more laughter.

However, Bielema got the biggest laughs with Arkansas Democrat-Gazette sportswriter Bob Holt and Snyder serving as inadvertent straight men. Holt said Alabama coach Nick Saban had helicoptered to his Orange Bowl press conference and jokingly asked if either had helicoptered to their press conference in Memphis.

"We came on motorcycles," Snyder joked. "See," Bielema interjected, "now that's a touchy subject."

Ensuing uproarious laughter didn't subside for awhile. Coach Bobby Petrino's motorcycle crash, ultimately revealing a scandal forcing his firing in April 2012, led to Bielema succeeding interim 2012 Coach John L. Smith as Arkansas' permanent coach.

All joking aside, Bielema and Snyder said their teams and fans take this bowl seriously.

"I think we've already almost doubled our allotment and have over 14,000 tickets already." Bielema said. "We're excited about those who will come and join us, and spend some time in Memphis for a great opportunity."

Bielema said from his experience going to two bowl games with Kansas State that there will be plenty of K-State purple at the Liberty Bowl. Snyder concurred.

"As Bret said, I would say we've had the three largest crowds in the history of college football to cross the state line and watch their team play," Snyder said. "That was a number of years ago, but I have great confidence in our fans."

Regarding what they think of their opposition, Snyder said, "I can't tell you an honest comparison because I don't know that much about Bret's team, yet, other than the fact that it's extremely well coached."

Bielema replied that he had watched K-State's last three games on film.

"I know on offense they continue to adapt to what their personnel allows them to do," Bielema said. "They've had a lot of different situations at quarterback, but they're steady in what they love to do. I'm sure we're going to see a running game that is going to come at us and test our manhood and ability to stop it. They've got a great play-action game that'll go with it. I think defensively they don't bring a lot of different pressure, but they just play very, very well. In the kicking game, I think they've got one of the most exciting return men (Dominique Heath) I've seen. Hopefully, we'll figure out a way to minimize the effect of that."




"